Other Versions
Publisher's Description
F-PROT Antivirus is one of the leading antivirus software applications on the market today. Built on the award-winning F-PROT Antivirus scanning engine, F-PROT Antivirus is renowned for its reliability, ease of use, fast scanning and exceptionally low resource consumption. New and unknown threats are detected with advanced heuristics technology, providing the strongest possible defense available for your computer.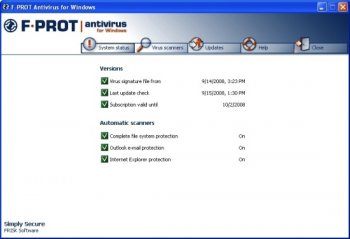 View Full-size
Latest Reviews
mrzoon reviewed v6.0.9.6 on Feb 22, 2012
I've been using F-Prot at home since before Windows. I've only had one infection in that time that it couldn't handle (BitDefender boot CD took that one out). It's not as flashy as Norton (which I wouldn't trust anyway since Symantec was hacked), and it's not as complicated to configure as McAfee (which we ditched at work in favor of MBAM+MSE), but it's much smaller, updated often, simple to use, and it works. I suspect that a lot of the "antivirus comparison" websites are paid for by one or more of the antivirus vendors (not Frisk), which is why F-Prot often is ranked far below "the leaders". The home license is great at $29/yr.
raki reviewed v6.0.9.4 on Jul 26, 2010
wanna chk it

!!!
Input Overload reviewed v6.0.9.4 on Jul 13, 2010
I've used this for years on two oldish DELL laptops due to its very small memory footprint. An excellent program. It also keeps improving.
tischla reviewed v6.0.9.4 on Jul 12, 2010
had some false positives that made me real lot of work.
normishmael reviewed v6.0.9.1 on Jul 27, 2008
Terrible!
Downloaded trial version,first exc downloaded from Frisk was corrupt.
Second worked fine,but update hung at about sixty percent.
Had to kill update with task manager and start over.
This time update would not even open.
Decided to remove program and damn uninstal utility stuck also!
Downloaded so called "removal tool" from F-prot,did nothing at all.
Ended up going into safe mode to remove program and regedit to remove legacy keys.

Maybe its just my machine but I had a colon full of of F-Prot.
Back to Avira!
Spectrowl reviewed v6.0.9.1 on May 6, 2008
efficient, fast and without fuss !
some guy reviewed v6.0.9.1 on May 6, 2008
better detection rate then Kaspersky and nod32
slickandy reviewed v6.0.8.0 on Nov 1, 2007
Vista support is still "in beta" but I've been using it on Vista 32-bit for ages now without any problems.

Good detection rates and small system footprint. Beats McAfee or Norton every day of the week!
godzila reviewed v6.0.8.0 on Oct 31, 2007
changelog?
madcats reviewed v6.0.7.1 on Sep 4, 2007
To read the most informative reviews, go to "Read All Reviews". In 10,000 downloads many good ones. I used F-Prot on XP computors for years with good results. Fast, effecient, not a resource hog...Try it and you may agree its a good deal at $29 to protect up to five computors.