File Details

File Size
3.2 MB
License
Shareware, $19.95
Operating System
Windows 2000/9x/Server 2003/XP
Date Added
June 30, 2006
Total Downloads
5,805
Publisher
FakeWebcam.com
Homepage
Fake Webcam
Publisher's Description
Play videos and movies on Yahoo/MSN/MSN/AOL/Paltalk messengers while chatting. It can even broadcast one single movie to all the messengers at the same time. It enables you to play pre-recorded videos without even having a physical Webcam.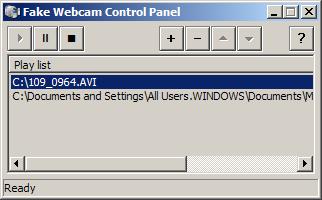 View Full-size
Latest Reviews
DOBEK reviewed v1.8 on May 15, 2012
The best virtual camera I have used. They have excellent support and the price is reasonable and one time.
FoxFree43 reviewed v1.8 on Dec 15, 2010
I had a low cost webcam that refused to work with the Yahoo Messenger because of an incompatibility problem. I just installed this and Bingo! it worked, acting like real webcam.
aland.joni reviewed v1.8 on Dec 6, 2010
A lot of technology is just an expensive way to complicate your life. This is just the opposite. It was simple to use, only cost about $20, and far exceeded our expectations.
WeptOver reviewed v1.8 on Nov 8, 2010
This item is very fantastic and useful. I love it. Being first of its type, it's the most steady and to the point product.
Mjumat reviewed v1.8 on Oct 29, 2010
This item couldn't be any easier to make use of - it defines less is much more. I had zero problems using the set up - couldn't be easier.
XPTESTTS reviewed v1.8 on Oct 20, 2010
I have a webcam but this fake webcam is a blessing. Some times I look like crap on that day & want to ""mask"" my ugly day look. Sounds funny but trust me, sometimes it's best to just not let people see you....
ChoyBernadette reviewed v1.8 on Oct 14, 2010
At the time I posted this review there were 3 others. None told me anything about this application. Curious as always, I tried it. It has a nice, user friendly GUI. It works well with "Vista".
Forrest35 reviewed v1.8 on Oct 12, 2009
I was referred to fake webcam by a chating guru. I just needed to play my x's recorded webcam videos which I captured using webcam screen recorder ..no cartoon or borders nothing..just play the damm videos. Very pleased!
Falkner reviewed v1.8 on Oct 11, 2009
In today's world of instant-messenger video chat, YouTube video comments, and Skype video calls, your computer needs more than a quality USB microphone; you need a camera, too. Virtual Webcam like Fake Webcam is the Perfect solution to all your needs.
KeyanJohn reviewed v1.8 on Oct 11, 2009
Fake Webcam is a complete package. Works with all major instant-messaging clients.