File Details

File Size
9.6 MB
License
Freeware
Operating System
Windows 2000/Server 2003/XP
Date Added
October 25, 2010
Total Downloads
43,310
Publisher
Protectedsoft
Homepage
FinalBurner
Other Versions
Publisher's Description
FinalBurner is a freeware alternative to expensive CD and DVD burners. This application enables you to create data, audio, DVD disks and burn them onto any type of media, such as CD R/RW, DVD+R/RW, DVD-R/RW, DVD DL. You can also create an ISO image of a disk. It combines all the elements of a professional CD recorder, delivered with a convenient user interface that pleases the eye. It is designed without any extraneous features. It restricts the complex process of CD recording to a few mouse clicks, which is ideal for typical users. Now you can produce high quality output on the fly without any deep knowledge of CD recording technologies. Power users will benefit from the opportunity to be in full control of many settings that affect the burning process and the quality of the result.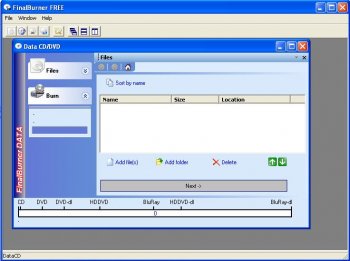 View Full-size
Latest Reviews
deTropBlogg reviewed v2.19.0.183 on Mar 22, 2010
Where is a help file
I punched make a DVD from avi etc
and I put in some FLV files
and when I went to click burn it said to input
a VIDEO_TS file -
so I am all confused.
Tried every way I could see.
xee reviewed v2.7.0.144 on Dec 24, 2008
On my first use I found it so buggy ...
Tried burning a DVD and forgot to put the blank so it showed an error message, then started counting as if it's actually burning something, it even got to 250% process!!!
Just tried CDBurnerXP and found it very good, also my prior experience with DeepBurner is better.
kgpsss reviewed v2.5.0.139 on Oct 17, 2008
Can "fb_free.exe" be used with windows vista Home Premium?
KG PRASAD
trynow reviewed v2.3.0.135 on Sep 30, 2008
Vista has a button write cd or dvd? is it.Why XP has not that buttons? Can you add a button like Vista? So we can find the write button everywhere...See you soon here...Thanks all.
jcunews reviewed v2.2.0.132 on Aug 12, 2008
Moderate functionality but relatively too large for such application.
onetouch reviewed v2.2.0.132 on Aug 12, 2008
So it's not all that pretty.

Works just fine and that's what counts.

Jim
Zebets reviewed v1.30.0.127 on Apr 23, 2008
Who cares what the GUI looks like, it works fine and it's free.
bobad reviewed v1.27.0.120 on Jan 21, 2008
I heard the GUI was ugly, so I tried it. It was indeed ugly. I don't see any compelling reason to switch from my current free burning software. It's just average, but getting better.
-Lord- reviewed v1.26.0.119 on Dec 20, 2007
You can always tell who actually TRIED the software and who didn't. Those that have tried say "installed on ..." or "I tried this and found..." That is a real beta test... not "I heard it doesn't support (insert item here) so I am not using it, and so I give it a 1 because I don't really know what I am talking about... I just heard it from my friend's sister's boyfriend's uncle and that was good enough for me."

Bottom line is that so far it works good in both XP and Vista for me. The interface could use a sprucing up, but the end result is ultimately what I am after, and that's a clean burn that works.
horsecharles reviewed v1.24.0.115 on Nov 13, 2007
Children, children-- works fine on Vista, listen to Toolie.

Tigreseis, you're funny too!