File Details

File Size
0.2 MB
License
Freeware
Operating System
Windows 2000/9x/Server 2003/XP
Date Added
July 11, 2005
Total Downloads
7,049
Publisher
Emilsoft Software
Homepage
Flexbeta Firetweaker
Publisher's Description
Flexbeta Firetweaker is the most advanced tweaking and optimization software for Mozilla Firefox. It bundles more than 20 different tweaks to optimize or customize Mozilla Firefox based on your Computer and Internet Connection speeds. Local versions of Firetweaker are available in German and Dutch.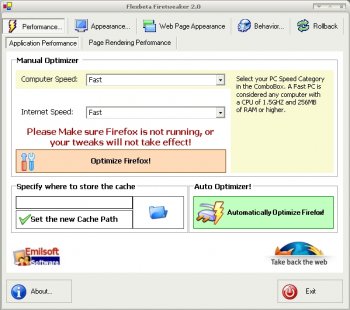 View Full-size
Latest Reviews
The WinWizard reviewed v1.2 on Mar 30, 2005
There are better programs out there and if you want to tweak about:config works very well.
DiGiTaLFX reviewed v1.2 on Mar 30, 2005
Well i think you should all stop wining about letting someone help me tweak firefox (when i wouldn't have a clue how to). Good program, but in my opinion, FireTune is better as its more user friendly (e.g. choose computer/connection speed and click tune).
Mark Gillespie reviewed v1.1.1 on Mar 18, 2005
Enabled options like pipelining that are intentionally disabled, as they can bring web servers to their knees.

While it may speed up YOUR firefox browsing experience, it's also creating potentiall DoS attacks on web servers.

Avoid this, and all other Firefox tweakers for this reason...
fuqfascism reviewed v1.1.1 on Jan 17, 2005
bad idea. tweakers don't need external applications to modify user text (js) files. Notepade works just fine thanks
emilsoft reviewed v1.0 RC1 on Jul 26, 2004
RC-1 has been refreshed today. The following change has been made due to numerous requests:

* Firetweaker now supports localized versions of Microsoft Windows.
wolver1ne reviewed v1.0 RC1 on Jul 26, 2004
You need a program for that? All those so called tweaks can be done via about:config.

The WinXP menus is nothing more than a simple addition userChrome.css, which is not a tweak but a skin adjustments.
rmcohen reviewed v1.0 RC1 on Jul 25, 2004
Looked interesting but couldn't get it to apply any changes. It always wanted to go to C:\Documents and Settings\Administrator...

But I have Firefox installed under my personal name.
Aires reviewed v1.0 Beta on Jul 22, 2004
I installed Firefox especially to try this tweaker as it intrigues me and I'd heard Firefox was a fast browser. Unfortunately Firefox isn't quite as fast as I'd been led to believe and I'll be uninstalling it. However with regards to the tweaker I think it's very good. I think it needs work and I'd like to see an option to move your Cache to ram. But it's a nice piece of software if you're using Firefox.
emilsoft reviewed v1.0 Beta on Jul 20, 2004
Hello everyone, this might shed some light on the recent problems some people have been having using Firetweaker XP:

http://www.emilsoft.net/...s/article.php?storyid=4
mukerjee reviewed v1.0 Beta on Jul 20, 2004
Hmm, actually I think this has something to do with OS dependence. I downloaded this program in home running Windows XP and ran perfectly as mentioned by author. I tried to use it in office with Windows 2000 and got the problems that some of the other reviewers have mentioned.

May be the author can comment on that, but most probably it was meant only for Windows XP.