File Details

File Size
156.3 MB
License
Freeware
Operating System
Windows (All)
Date Added
July 1, 2022
Total Downloads
187,740
Publisher
Foxit Corporation
Homepage
Foxit Reader
Publisher's Description
Foxit Reader is a small, fast, and feature rich PDF viewer which allows you to open, view, and print any PDF file. Unlike other free PDF readers, Foxit Reader also includes easy to use collaboration features like the ability to add annotations to PDF, fill out PDF forms, and share information with social networks. Foxit Reader has a small footprint that starts up instantly, renders PDF files quickly and uses very little memory, which is especially important with today's mobile devices. The Foxit Reader is packed full of convenient and easy to use viewing, commenting and printing features that make document collaboration simple. Foxit Reader's PDF secure platform insures worry free operation against malicious virus and provides a secure and reliable digital signature verification platform for PDF documents without putting the user at risk from falsified documents.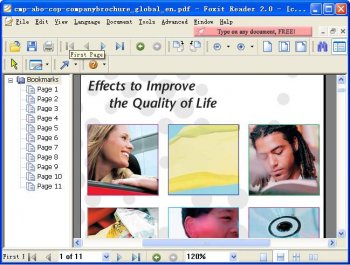 View Full-size
Latest Reviews
sophialiu reviewed v8.3.2.25013 on Aug 28, 2017
Today, I come across an wonderful Blu-ray playing software. The F2Fsoft Bluray player can play Blu-ray folder, Blu-ray disc, Blu-ray iso files, different types of DVD and normal videos on TV, PC and PS3. It is powerful but easy-use software. Today, I will share you how to play Blu ray with this player software.
eternia reviewed v8.0.2.805 on Sep 14, 2016
This used to be my favorite pdf reader years ago. But now it sucks. It has big installation file, without any lite version. They installed a lot of unnecessary stuffs into your laptop, namely:
-language proofing tools
-pdf creator
-pdf printer
-browser plugins
-microsoft office plugins
-cloud service
The latter one being the most evil, because we can't opt out. I am pretty sure I ticked the disable check box. But the service is still running. What makes them think I want to store my files in their server? I am very disappointed!
cyberguy reviewed v8.0.2.805 on Aug 9, 2016
This used to be my favorite reader, but I moved away from it when they started adding a lot of unnecessary (to me) stuff. One of the things I liked about foxit was its lightness and no-frills approach to reading pdfs. Sadly Foxit is following Adobe down the bloated reader road. Sad.I can't give it more than a mediocre rating.
Mirage_Etoile reviewed v7.3.4.0311 on Mar 18, 2016
Older versions are light and improve pdf performance.
Anyway better than acrobat yet.
cltx99 reviewed v7.2.0.0722 on Aug 10, 2015
I went to oldapps.com and found Foxit 5.3 For me it's just fine. I don't like or need all of the junk on the newer versions, as my PDF nedds are simple.
nilst2006 reviewed v7.1.5.0425 on Apr 28, 2015
Due to You haven't been able to un-tick their cloud-BS i give it a 3.
reddy.shyam reviewed v7.0.6.1126 on Dec 1, 2014
I love this program. Though getting a bit bloated still best of the PDF readers out their. Constantly improving and listening to the users.
smaragdus reviewed v7.0.3.916 on Sep 24, 2014
Foxit Reader is the worst PDF reader, worse even the Adobe Reader.
FatBastard reviewed v7.0.3.916 on Sep 24, 2014
I loved version 5.x but versions 6.x and 7.x totally suck !!
balanceinmotion reviewed v6.2.3.815 on Sep 24, 2014
great tool