File Details

File Size
70.0 MB
License
Open Source
Operating System
Windows (All)
Date Added
October 20, 2023
Total Downloads
48,191
Publisher
FrostWire
Homepage
FrostWire
Other Versions
Publisher's Description
FrostWire allows any individual to share his/her content to millions of people right from his/her computer without any cost thanks to the BitTorrent P2P network.
FrostWire, a BitTorrent client (formerly a Gnutella client), is a collaborative effort from hundreds of Open Source and freelance developers from around the world. In late 2005, concerned developers of LimeWire's open source community announced the start of a new project fork "FrostWire" that would protect the developmental source code of the LimeWire client. The developers of FrostWire give high regard and respect to the GNU General Public License and consider it to be the ideal foundation of a creative and free enterprise market. FrostWire has evolved to replace LimeWire's BitTorrent core for that of Vuze, the Azureus BitTorrent Engine, and ultimately to remove the LimeWire's Gnutella core to become a 100% BitTorrent client that is simple to use.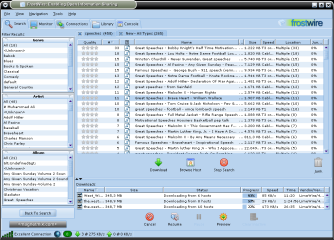 View Full-size
Latest Reviews
dono1216 reviewed v6.0.3 on Jan 7, 2015
Went back to version 5.7, for some reason all versions 6.0.x kept crashing every 15-20 minutes.
some guy reviewed v6.0.0 on Nov 6, 2014
sure I do Tom you must not visit daily
TomA102210 reviewed v5.7.2 on Apr 14, 2014
@someguy. Do you ever have anything positive to say about anything you download from fileforum? How it "tried" to download what you assert it was trying to do is beyond compreshension.

I rate this program a 4 by the way.
martadrab reviewed v5.7.1 on Mar 21, 2014
works fine for me
some guy reviewed v5.3.6 on May 18, 2012
crap tries to instal Real player lol
smaragdus reviewed v5.3.4 on Mar 27, 2012
It was useful as a Gnutella client, but since Gnutella support has been dropped, it is useless as a Torrent client (one of the worst by the way) and ad-ware to boot.
gatorfan95 reviewed v5.3.4 on Mar 27, 2012
Updates to this seem to be coming rapid fire lately. It does what i says it will and has a wide range of torrents to chose from.
freesoftpro reviewed v5.1.5 on Oct 1, 2011
Download Frostwire For Free!

Frostwire is the leading P2P file sharing program. It allows you to download and share thousands of files for free! It works on Windows, Mac, Linux and Android.

I`ve downloaded all my music collection from frostwire and never had any problems. I love

this program!
some guy reviewed v5.1.5 on Sep 19, 2011
good program on a crap network!
djb247365 reviewed v5.0.4 on Jun 24, 2011
For some reason, the last few versions of FrostWire have been crashing my graphics driver. Why? I'm not sure. My drivers are all up to date, so there should be no issue. Until I figure out how to resolve this issue, I'll stay away from FrostWire