File Details

File Size
3.0 MB
License
Shareware, $39.99
Operating System
Windows 7/8/10/Vista/XP
Date Added
January 7, 2021
Total Downloads
70,260
Publisher
FXsound.com
Homepage
FxSound Enhancer
Publisher's Description
FxSound Enhancer is a sound enhancement, sound improvement and dsp effects software for digital music. By using this, you are finally able to experience true high fidelity. A DFX enhanced version of this player transforms the sound of an average PC into that of an expensive stereo system placed in a perfectly designed listening environment.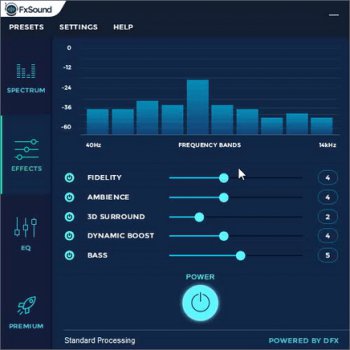 View Full-size
Latest Reviews
CyberDoc999 reviewed v13.007 on Jun 30, 2017
Great sound the price is too high
AliveNoMore reviewed v8.0 on May 21, 2007
Not that it's that bad or anything, but for a shareware software I'd take iZotope Ozone any day (I must be a moron not to). And for a free alternative I'd use Enhancer, which in my opinion is just as good (if not better) and is free. Another great and free alternative is Shibatch's Super Equalizer. The only thing about DFX that made me give it a rating better than 1 is its ease of use. Apart from that there's superior in this plugin over others.
Darktrik001 reviewed v7.257 on Nov 22, 2005
I've been using it for years. Not a bad program but it could use some more skins. Also note that it works in bsplayer for video if you set bsplayer to use winamp plugins.
flashhh reviewed v7.2 on Jul 28, 2005
That plugin is GREAT, but I still prefer iQfx.
brotherS reviewed v7.257 on Jun 14, 2005
Gives you really great sound!
brotherS reviewed v6.4 on Jun 1, 2005
This is a great enhancement for Winamp, much better than just the equalizer. Too bad it isn't freeware... try the free evaluation version.
The-Who reviewed v7.2 on Jan 27, 2005
What happened to the Snapping Mode?!
Kukac reviewed v7.0 on Nov 6, 2004
-1 star for inconveniencies:
.no fade out to transparent mode (like Winamp)
.displays separately from Winamp on the taskbar, unable to make this disappear (only if UI is closed but then it's not possible to change settings)
Nehemoth reviewed v7.0 on Oct 11, 2004
Hmm I supposed that you want to say DFX 7 for Windows Media Player...

Nice very well
AnthonyB reviewed v6.2 on Sep 4, 2003
Holy crap! As an ex-studio engineer this reminds me of the sonic enhancers I used to use. Really gives your MP3 playback some real zing!