File Details

File Size
8.9 MB
License
Freeware
Operating System
Windows 7/8/10/Vista/XP
Date Added
September 20, 2023
Total Downloads
83,685
Publisher
techPowerUp.com
Homepage
GPU-Z
Publisher's Description
GPU-Z is a lightweight system utility designed to provide vital information about your video card and graphics processor.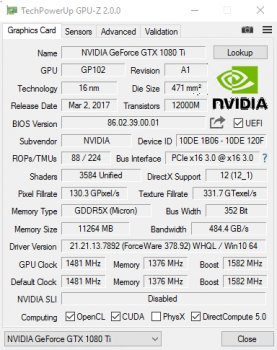 View Full-size
Latest Reviews
chrispaul reviewed v0.7.7 on Feb 17, 2014
awesome
barrytbutler reviewed v0.7.6 on Jan 29, 2014
very handy little program indeed.
paulfp reviewed v0.7.5 on Dec 20, 2013
Programa this good and this site good http://adfoc.us/14901736199711
olivergiving reviewed v0.7.3 on Sep 25, 2013
solid
Input Overload reviewed v0.5.2 on Mar 23, 2011
Useful with PC's you are not familiar with & don't want to dismantle & get showered with dust. I personally like this utility.
Psychlone reviewed v0.5.0 on Dec 28, 2010
Hey Tall Paul from Tennessee (tallpaultn) : Just wtF are you talking about?
CPUz will show you everything most users would ever need to know...ABOUT THE PROCESSOR.
GPUz, on the other hand, is made to show users what they need to know ABOUT THE GRAPHICS CARD(S).
The two are not interchangeable, nor do they even reflect information about similar parts. CPU = Processor, GPU = Graphics Card.

Does what it's supposed to, works great, and never, I mean NEVER has it locked up on a single system out of hundreds that I've run it on (IT/Remote Admin/Systems Admin/Computer Repair business)

Note for the Devs: PLEASE change the GUI for those of us that are running Crossfire/SLI so we can see temps/speeds/voltages of BOTH cards at the same time. PLEASE!
some guy reviewed v0.4.8 on Nov 9, 2010
pretty sweet program pretty much tells you how much your video card is out of date ;)
FatBastard reviewed v0.4.5 on Aug 19, 2010
This is a nice little progam :)
Virtual_ManPL reviewed v0.4.0 on Apr 1, 2010
5/5...

@ Tallpaultn - implying that the CPU-Z can give use detailed GPU info...
war593122 reviewed v0.3.9 on Feb 23, 2010
Getting better and better, though it should be marketed as beta!