File Details

File Size
19.6 MB
License
Freeware
Operating System
Mac, Microsoft Hyper-V Server 2008, Unix, Windows (All)
Date Added
March 2, 2011
Total Downloads
2,825
Publisher
Ben Dibell
Homepage
GeekDOS
Publisher's Description
GeekDOS is a free FreeDOS based OS that boots from CDs and DVDs, USB drives, Hard disks, and a minimalistic version from floppy via an included script. It includes an installer that installs GeekDOS to the first recoginized supported filesystem. GeekDOS will start to a fully usable environment whether or not installed, with little if any difference when installed. It includes many small open source or abandonware utilities and games, as well as the built-in now open source DOS Navigator GUI. I hope you find GeekDOS useful, Ben Dibell.
THIS IS AN OPERATING SYSTEM, NOT JUST A PROGRAM FOR ANY SPECIFIC OTHER OS.
BEFORE INSTALLING: You should know that GeekDOS is usually able to install all by itself, but the partitioner sometimes does not show the option to set a partition as active. THis means if you create a partition for GeekDOS under a different OS, be sure to set it as active, unless of course you plan on a dual-boot or something.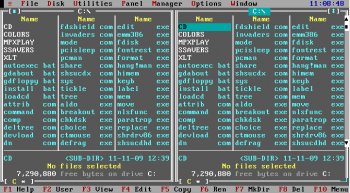 View Full-size
Latest Reviews
Be the first to write a review!
Someone reviewed v on Mar 19, 2023
Pros:
Cons:
Bottom Line:
Someone reviewed v on Jul 5, 2022
Pros: 555
Cons: 555
Bottom Line: 555