File Details

File Size
4.0 MB
License
Shareware, $49.95
Operating System
Windows 2000/Server 2003/Server 2008/XP
Date Added
October 23, 2007
Total Downloads
22,994
Publisher
Gene6
Homepage
Gene6 FTP Server
Publisher's Description
Gene6 FTP Server is a professional Windows FTP Server featuring speed, reliability and customization. Its main assets are remote administration, encrypted (SSL) connection and ease of use. It has been developed for demanding business and corporate use. With SSL support it can be used to transfer important files over internet with security like medical information and sensitive data.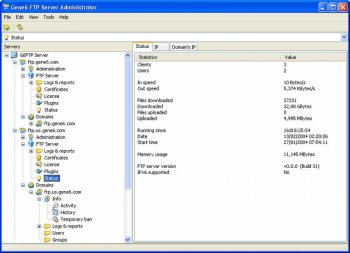 View Full-size
Latest Reviews
boulderdrop reviewed v3.10.0.2 on Apr 22, 2008
I totally agree with the last comment. Gene6 seems to have all the bells and whistles, but I honestly can't stand the "Microsoft Management Console" like interface where everything is hidden in a "tree-view". It's price kind of high too.

I've been using BPFTP Server for years and love how straight-forward and just-plain-useable it's UI and features are...

There's a listing for it here on BetaNews.
zyfos reviewed v3.9.0.2 on May 18, 2007
Gene6 has lots of nice features that I really like, such as how easy it is to setup virtual directories, and the security stuff is great. The functionality is a pretty big step up from their old Bulletproof.

However, the one thing I HATE about Gene6 is its GUI. I think going with the tree structure to access EVERYTHING was a horrible idea. They lost so much great GUI functionality compared to Bulletproof, like tracking users, banning users, checking stats, etc. (Gene6 can still do this stuff, but it just feels so clumsy.)
mikas reviewed v3.8.0.34 on May 11, 2006
Best! Simple!
CraXyOW3 reviewed v3.7.0.24 on Mar 25, 2006
Very nice FTPd to start of with, easy to use and got some support for third party versatility.
I started with this FTPd and i learned alot from it,tho this was some time ago and now i tried the shareware to check the current progress.

But for the high price when there are other alternatives and some with larger area of usability and more advanced learning curve, i dont see the price worth it.
Now now, dont come with arguments on that, there are far more better FTPd's that is GPL'ed.

Summary:
Nice FTPd for win32, easy to use.
Lacking support for more advanced functions.
All in all, a good alternative cept the price!
Metshrine reviewed v3.4.0.16 on Mar 9, 2005
By far the best FTP server software I've ever used. Support is top notch and it supports everything a major corporation (as well as the average home user looking to share files) would need. Great job G6, glad to see you didnt go under with your sale of your old product to BP. Keep up the top notch developing
FailedCRC reviewed v3.2.0.72 on Oct 31, 2004
nice, highly configurable ftpd for windows, i'm back to using this over serv-u and ipswitch.

eje_s i suggest you look elsewhere for your problem - it's not the daemon.
Pizda reviewed v3.0.0.34 on Jul 11, 2004
Gene6 makes good software. Been using their server since 1999, even when I thought they'd gone under with a surprise sale of their flagship software to BP. Haven't been able to find a better ftp server software since, well, up until now! I wasn't even aware that these guys were alive and kicking. Installed server v3.1; WOW! Contacted them about my v2.0 license, got a 20 dollar discount too. The most powerful, yet simple to use and configure, enterprise grade FTP server software out there. Highly recommended!
eje_s reviewed v2.0 on Mar 27, 2002
When transfering from Raidenftpd to this program the data get corrupted when the speed is greater than 9-12 MB/s.

Extremely bad I say.
PanterA reviewed v2.0 on Mar 27, 2002
Using this tool i manage to run all my computer! In the beginning I'm offered to choose what OS to boot (I've got Win98 with Fat32, WinXP with NTFS and Linux RedHat with ReiserFS). Booting goes without any problems. I've used it's disk administrator part 4 times already : first, i've partitioned my 80Gb HD in a way I wanted to firstly. But then i realized that some of my partitions have too much unused space. And then I've resized them and even add one more partition. This was a second time. Perfect! Before using OS Selector I couldn't imagine doing that without data loss. Now to finish smoking my cigarette is far much more complicated task! Then i decided to change drive letters and change an order of my partitions - piece of cake (third time). At last i wanted one of my NTFS-formatted partition to become hidden. No sooner said than done! Well, I'm very very satisfied with this app! Thanks to Acronis!
curre reviewed v2.0 RC1 on Sep 27, 2000
I am a Mr. Tough Guy Site-Op so I love this program.