File Details

File Size
19.1 MB
License
Shareware
Operating System
Windows 2000/9x/Server 2003/XP
Date Added
October 25, 2007
Total Downloads
3,812
Publisher
Genie-Soft
Homepage
Genie Backup Manager
Publisher's Description
Genie Backup Manager is a powerful backup solution that offers a great sum of features, and with the use of wizards and an intuitive interface the task of backing up data has become as easy as 1-2-3. The backup scheduler feature also gives you peace of mind as you can set it to protect your data regularly and silently even when you're not around.
You can protect all your data including files and folders, e-mail data and settings of some of the most commonly used clients, Windows settings, Registry, Internet Explorer settings, Fonts, Favorites, Windows Address Book, Desktop, and more.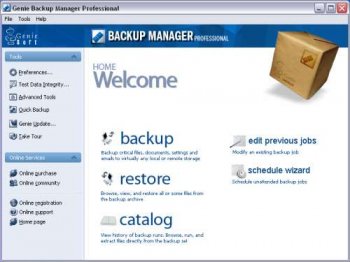 View Full-size
Latest Reviews
tmartindub reviewed v8.0.278.448 on Sep 6, 2009
I purchased this product to back up my music collection which is about 255 GB. I have tried multiple times to make it work and it fails each time at about 40 gb. Tech support has not given me any idea as to how to get past this error and the backup log is useless. This product has yet to show me anything and seems to have a 40gb barrier in file creation size.
VictorL reviewed v8.0.278.448 on Nov 9, 2007
This is only backup tool I found here with full Unicode support, in data, media and interface.
zridling, price is not high if you really need backup.
zridling reviewed v8.0.278.448 on Nov 9, 2007
Whoa! $70 is too steep, man! Bring it down, baby, bring it down. Or wait, maybe I need to start using a real currency, like the Euro.

VictorL above makes the real point, and GBM is freaking incredible, regardless of price.
TucknDar reviewed v7.0.219.389 on Apr 14, 2007
Great backup tool. Does everything I need. I'm not too fond of the interface (hence the rating '4'), tbh, other backup tools has better UIs (Backup4all is one), but I'm not going to sit and look at it too much anyway so it doesn't matter too much.

You should get the File Access Manager (FAM) along with this so that opened files will be backed up as well!
Metshrine reviewed v7.0.219.389 on Apr 13, 2007
Best backup program I have ever used. Does everything I need and more
zridling reviewed v7.0.185.355 on Dec 5, 2006
urlwolf, I take it you didn't know what you were doing? The problems you describe have simple explanations, unless you can't figure that out.
urlwolf reviewed v7.0.120.292 on Jul 25, 2006
had all kind of problems with it. Switched to syncBackSE, and everything works now.
Basic problems with:
- open files (not backed up)
- indexing and searching the index (not reliable, slow)
- Extra zip files in the back up for no good reason.
zridling reviewed v7.0.119.291 on Jul 5, 2006
Why do all high-end backup managers cost $70? I'd love Genie Backup a lot more if it used RAR or 7z over zip. I've never found zip to be reliable over the years due to repeated bad experiences.
zridling reviewed v7.0.106.275 on Jun 7, 2006
These changes do not warrent a full version jump. Version 6 was released less than a year ago. Great, but still unaffordable. When is the 7z compression coming to Genie Backup?
zridling reviewed v6.0.21.1668 on Aug 1, 2005
LukaBuka, you've almost got it right. Acronis True Image is the best for imaging drives and I recommend everyone have a copy of it. But unless you're using DirSync to sync your files to another drive or offline, then Genie Backup Manager is hands down the best backup solution for one's personal files, photos, and other data. The only thing I cringe at with Genie Backup Manager is its steep price tag of $70.