File Details

File Size
14.6 MB
License
Shareware, $79.00
Operating System
Windows 7/8/10/Server 2008/Server 2012/Vista
Date Added
June 1, 2020
Total Downloads
14,011
Publisher
Runtime Software
Homepage
GetDataBack
Publisher's Description
GetDataBack is a completely redesigned and rewritten Data Recovery solution for Windows and Linux file systems. Our developers have combined decades of data recovery experience with the newest technologies.
GetDataBack's clean interface guides you to your lost data in no time. You are literally one click away from your files. GetDataBack is the data recovery software for the 99%. You can recover it now. No manual to read, no ostentatious options, no kidding.
GetDataBack combines recovery capabilities for NTFS, FAT, exFAT, EXT, HFS+ and APFS. You do not need to find out beforehand which files system your drive was formatted with. GetDataBack's recovery engine internally uses four distinguished sophistication levels that automatically escalate until good results have been achieved.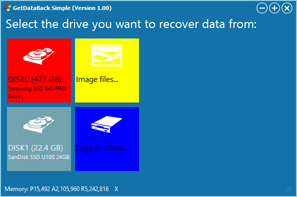 View Full-size
Latest Reviews
bekaye reviewed v3.68 on Jul 28, 2009
Once in the middle of resizing a partition, the power failed. When Windows would not recognize anything on the drive, GetDataBack for NTFS saved the day by recovering ALL the data on the drive. This is excellent software.
The Best.

And i tried so many...
The Best.

And i tried so many...
aszure reviewed v3.03 on May 28, 2006
I have to admit...its fantastic.

I was repartitioning a hard drive, and my power flickered. yeah yeah I know, should have had a UPS and its my own damn fault. The drive, stocked with my personal cd collection in mp3 (100G) was basically fried. I fired up this proggie, and recovered every last file.
mdrlucky reviewed v3.01 on Feb 24, 2006
The Best
badak01 reviewed v2.31 on Jul 26, 2004
Wow! This program just recovered 60GB of my most important data files after my USB Hard Drive's File Allocation Table became corrupt.
Absolutely awesome! All files perfectly intact. I experimented with r-Studio and Restorer2000 before trying GetDataBack and was worried that my data was lost for good. Then I tried GetDataBack and was amazed. I highly recommend this program.
Sharp_Rulez reviewed v2.31 on Jun 15, 2004
I buy this software coz it save my life.. hrm, my computer!

by the way, the download link is the "fat" version (?!) not the NTFS version
NXprime reviewed v2.22 on Dec 27, 2003
Saved my a** and recovered a lot of my missing XMAS photos that were corrupted due to this http://fileforum.betanew...ail.php3?fid=1072181803

Great program, highly recommended!
Rob2771 reviewed v2.14 on Apr 2, 2003
This Program totally saved my rear when an accident with norton ghost destroyed my partition info on one of my HDD's. I was able to recover 99% of the data that was in the partition I lost. OH YA! (Of course there was a certain amount of luck in my case though)
brainwash_ reviewed v2.0 on Mar 16, 2003
GetDataBack had saved me ^^