File Details

File Size
0.1 MB
License
Freeware
Operating System
Windows 2000/Server 2003/XP
Date Added
November 24, 2002
Total Downloads
13,251
Publisher
Chime Softwares
Homepage
Glass2k
Publisher's Description
Glass2k allows Windows 2000/XP users to make any/every window transparent/semi-transparent, like Linux or Mac OS X windows. The latest version remembers each window's transparency settings, allows you to keep any window on top, loads on Windows startup, beeps when glassify'ng a window, supports mouse and keyboard shortcuts, and allows you to customize these shortcuts.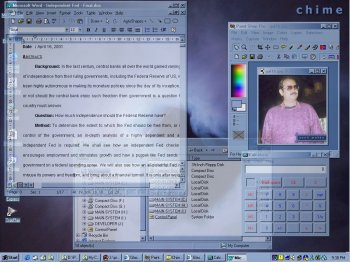 View Full-size
Latest Reviews
snowshifter reviewed v0.9.2 Beta on Jun 4, 2009
Just browsing and found this. I got this on a covermount CD about 2004. It's the only free transparency tool that always works. The only time I ever Had a problem was with a Yahoo! widget. The only tweak that is on every system I've purchased, built, sorted for friends. Brilliant!
debonair reviewed v0.9.2 Beta on May 8, 2009
Still works in Windows 7. Thank goodness the default right click can actually be changed. (I just noticed) I was worried about being stuck with right-click only to change settings.
stealthx32 reviewed v0.9.2 Beta on Feb 14, 2002
Great stuff...but it is a bit slow. ixxologic, I have AIM+, which is an AOL Instant Messenger add on, that allows transparency, also has some other neat features. I run that on a pII 300 MHz IBM 600E laptop, with some graphics card that doesn't have any decent 3D capability. On the Task Manager in Win2k, it registers 0% cpu usage for that program, and also, I notice no slow down at all. So it's definitely this implementation that is slow. So no, you don't need a fast computer at all to have decent transparency. Also, what does anti-aliasing have anything to do with it? All those bells and whistles you mention are for 3D rendering, not 2D.
terf reviewed v0.9.2 Beta on Feb 14, 2002
the download links to the old version, doesn't it?
ixxologic reviewed v0.9.2 Beta on Feb 14, 2002
excyzemoiz mr mrp-

the fact that its written in VB may make it slower than it would be in lets say.. C.. BUT.. man.. what age are you from?..
You're using a TNT2.. tho great in its days.. it does NOT have hardware accelleration of Transparencies and definetly NOT antialiasing them too like MODERN GEFORE CARDS DO!.. get a GF3 or something and THEN start complain if its still slow..

Its not at all slow.. i can shuffle 52 transparent windows like a deck of cards in Vegas man and its NOT SLOW..

a bit buggy yeah. but if you wanna use transparent windows.. get a faaaaaaaaaaaaaaster gfxcard!

I/O
mrp- reviewed v0.9.2 Beta on Feb 13, 2002
I have a 1.4ghz, 32mb TNT2.. Transparent windows are too slow to use, but it isn't my pc, its the program. When using programs that support transparency, such as trillian, it is fast, but when using glass2k everything is slow. I blame this on the fact that glass2k was written in VB, maybe someone can write a similar app in another language? (maybe I will :) ... if it wasn't so slow it would be great, but i still give it a 5 for trying.
166-Mhz reviewed v0.9.2 Beta on Feb 13, 2002
it's a cool program, very cool indeed although for older/weaker machines it gets too slow..like on my machine, but that isn't a problem from the program itself..
Orbit reviewed v0.9.2 Beta on Feb 13, 2002
Nice idea. Needs polish. When you right click on anything on the left side or the bottom of the monitor, you cannont see the %bar adjustment. When applying to my browser, the browser started flickering madly until being reset to 'No Glass Effects' ---- When applying to a folder on the right side of the desktop, the entire desktop disply was immediately corrupted. -- Running Win2K Pro - SP2 - Recent Rollovers - AMD 1 GHz - geForce3 Ti200 - 512 megs Micron CAS 2 PC133 SDram. -- good thing there wasn't an install or uninstall procedure to waste time with. -- In fact, it took longer to write this, than the time the program was on my drive.
tonybinnj reviewed v0.9.2 Beta on Feb 13, 2002
Have no problems using this program with win2k.. Nice to be able to see through a screen to what you have underneath!
thebrix reviewed v0.9.2 Beta on Feb 13, 2002
Very nice utility and very useful - applications which allow 'always on top' are generally helpful but, in some circumstances, can block other windows. Glass2K fixes this without having to toggle 'always on top' within the application.