File Details

File Size
74.6 MB
License
Shareware, $39.00
Operating System
Microsoft Hyper-V Server 2008, Windows (All)
Date Added
May 31, 2023
Total Downloads
4,357
Publisher
GlassWire
Homepage
GlassWire
Publisher's Description
GlassWire's free firewall displays your network activity on an easy to understand graph while searching for unusual Internet behavior that could indicate malware or violations of your privacy. Once unusual network activity is discovered you're instantly alerted with detailed information so you can protect your computer, privacy, and data.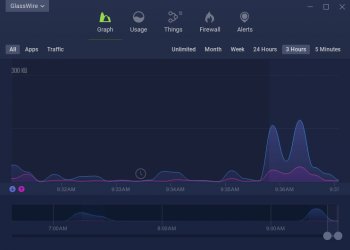 View Full-size
Latest Reviews
KeepItReal reviewed v2.3.397 on Apr 16, 2022
If it's freeware then it's freeware, this clearly is not Freeware.
p3t3rb0na reviewed v1.2.102 on May 29, 2017
GlassWire keeps getting better and better
Many Thanks
p3t3rb0na reviewed v1.2.79 on Dec 4, 2016
Have been a constant user of GlassWire for many years. A brilliant addition to assist and reinforce Computer real time protection.
Wouldn't be without if. If my financial situation as a pensioner wasn't so dire, I would not hesitate in a purchase of the PRO version.
5Stars from me
CyberDoc999 reviewed v1.2.57 Beta on Apr 13, 2016
better and better
lynettedalton999 reviewed v1.1.41 Beta on Feb 1, 2016
This is perfect
darkwzrd1 reviewed v1.1.41 Beta on Jan 30, 2016
Don't BUY this garbage, it just Windows Firewall with a pretty GUI. You might as well use Windows Firewall Control which will give a simple GUI interface with significant control for FREE.

Outpost Firewall is fair more superior and doesn't use Windows Firewall, which means it can be disabled. But keep in mind in Windows 10, if you disable Windows Firewall and try to run Windows Update it will FAIL. So just keep in mind, if you do DISABLE it, re-enable before Updating.
CyberDoc999 reviewed v1.1.41 Beta on Jan 29, 2016
Very nice the pro version is on sale at Neowin.com

GlassWire has never crashed I have it on all my systems

Outpost Firewall is junk compared to this... Outpost will nag you until you buy it
CyberDoc999 reviewed v1.1.36 Beta on Dec 4, 2015
great program a must have..... 10 stars they fixed all bugs! now it is perfect
darkwzrd1 reviewed v1.1.32 Beta on Oct 14, 2015
DON'T DOWNLOAD! It doesn't pass the GRC Test. It doesn't have AUTO-LEARN, ANTI-LEAK, ATTACK DETECTION, ect...You can't can't even SETUP Rules and Close Ports. Also has a tendency to CRASH randomly,esecpially when entering into SETTINGS. Outpost Firewall 9.2 BLOWS this Firewall out of the water for a quarter of the price.

Its FAR from being a contender in the Firewall Market.
CyberDoc999 reviewed v1.1.32 Beta on Oct 14, 2015
pure bugs