File Details

File Size
3.0 MB
License
Shareware, $19.95
Operating System
Windows (All)
Date Added
March 5, 2008
Total Downloads
8,462
Publisher
Headlight Software, Inc.
Homepage
Go!Zilla
Publisher's Description
Go!Zilla helps you download files from the Internet. Accelerate your downloads, schedule your downloads, manage your downloads, and more.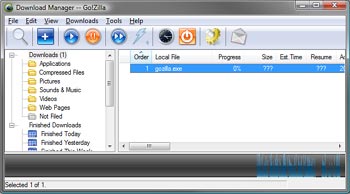 View Full-size
Latest Reviews
Banquo reviewed v5.02 on Apr 18, 2008
Nighted, you got it backwards. The new owners got RID of the adware and junk, they didn't add any. The previous owners were the ones that put that in there. Pay attention.
brusco reviewed v5.02 on Mar 10, 2008
Rather than going off and talking about some philosophical argument about paid vs free like some people here, I actually TRIED the software.

It's reliable and it does a great job on large segmented downloads (segments from several servers too). I'd like to see a more comprehensive approach download scheduler. Good software.

This came with no adware at all so I don't really know what some others are talking about.
RWW reviewed v5.02 on Mar 7, 2008
Use Opera.
Rikrdo reviewed v5.0 on Jan 31, 2008
This new version (5.0) is now maintained by the same authors of GetRight. No more spywares and other trash from the previous versions. It's all new. This is a great new version!
Nighted reviewed v5.0 on Jan 28, 2008
GoZilla was awesome....was. Then some company took over and totally f@#$ed it up with adware and bloated features. Ah, the memories....

Now there are soooo many free alternatives.
Ulmo reviewed v5.0 on Jan 28, 2008
Ahhh !
Download Accelerator and Go!Zilla
Sorry but it's the past now.
Download managers are free now.
shaper reviewed v4.11.39 Installer #4 on Mar 4, 2004
First download manager I ever used......I thought it was great at the time.......it's so sad to see it is propably the worst download manager now days :(
Perezoso reviewed v4.11.39 on Mar 17, 2003
The first download manager I ever used. Now it's CRAPWARE. :(
mainchip reviewed v4.11.39 on Dec 30, 2002
XX years ago, it was the best, and now.. :(
JEdwardP reviewed v4.11.39 on Nov 26, 2002
Like another recent reviewer, I used Go!Zilla in much earlier days. It's become truly awful software. It's now bloated, has a cluttered mess of an interface, and includes Radiate brand spyware, which seems to be among the worst of its kind. With so many alternatives freely available, it shouldn't even be considered.