Publisher's Description
HarePoint Business Cards is designed to allow you to publish users' contacts (cards) on site pages with automatic support of data relevance. The product is extremely easy-to-use and ready to work right out-of-the-box. When adding a new user to the selected group a card with the contacts will automatically appear on the page. If you change a user's information in the profile of SharePoint or Active Directory, the user's information on the page will be updated automatically too.
To determine the appearance of cards, you can use predefined templates, or create a card with a handy visual editor. In both cases, you can switch to editing the HTML source code for further customization. For example, to animate cards with JavaScript or design card items with corporate styles.
The appearance of cards and the set of fields can be defined at the level of a web-part, at the site level and the level of a site collection, and supports inheritance. Thus, by placing the web-part on the page, you can specify the settings so that the appearance of cards and the set of fields will be inherited from the site settings. Using inheritance, you only have to make a change at one place to change the appearance and the set of data in the users' cards of the whole site or site collection.
HarePoint Business Cards is a really great source of actual content for such site-areas as "About Us", "Contact sales", "Board of directors" or a department's homepage on a corporate intranet portal.
The web-part works with both Microsoft SharePoint 2007 and Microsoft SharePoint 2010.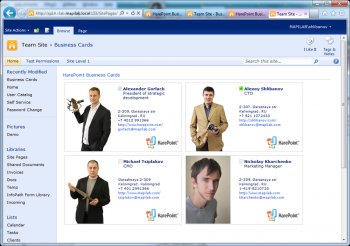 View Full-size
Latest Reviews
Be the first to write a review!
Someone reviewed v on Mar 19, 2023
Pros:
Cons:
Bottom Line:
Someone reviewed v on Jul 5, 2022
Pros: 555
Cons: 555
Bottom Line: 555