File Details

File Size
1.1 MB
License
Freeware
Operating System
Windows (All)
Date Added
June 23, 2016
Total Downloads
13,644
Publisher
Implbits
Homepage
HashTab
Other Versions
Publisher's Description
HashTab is a Windows shell extension which adds a tab called "File Hashes" to the Windows Explorer file properties. The tab contains the MD5, SHA1 and CRC-32 file hashes. These are common hashes that are used to verify the integrity and authenticity of files.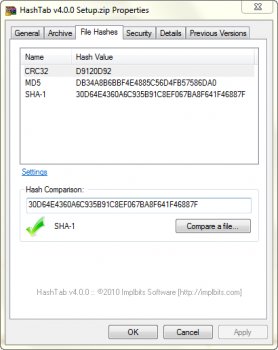 View Full-size
Latest Reviews
amnandla reviewed v5.1.23 on Mar 16, 2014
a perfect app, helping me on windows to manage cricket schedules for http://www.cricfair.com/schedules.html
nandla reviewed v5.1.23 on Dec 24, 2013
An amazing sort of app loved it at http://www.cricscores1.com/news/
poisonu reviewed v4.0.0 on Feb 14, 2011
Superb.
argybee reviewed v2.1.1 on Dec 26, 2008
Brill!
Even more indispensable!
the only improvement i can think of would be if there was an option have the hashtab property page always on top - to help comparing by drag and drop
Jen Smith reviewed v2.1 on Nov 11, 2008
Very handy for validating downloads and such quickly without having to launch a console or separate app. One utility I wish I had on my Gnome desktop.
Superb new drag and drop compare!
ajua reviewed v2.0.8 on Dec 26, 2007
this new version is working as great as before. the only change i feel need some work is the auto detection of OS regional settings because there is no option to use another language.
It would be really nice to just be able to drag another file onto the compare box, if you're reading this Cody :)
shtraue reviewed v2.0.7 on Dec 14, 2007
Usually I need to check only one particular file at a time, so this shell extension is perfect for me.

There is also another good free tool, capable checking many files at once - FileVerifier++

http://www.programmingun...xec/content.cgi?page=fv