File Details

File Size
2.9 MB
License
Shareware, $39.95
Operating System
Windows 2000/9x/Server 2003/XP
Date Added
September 8, 2011
Total Downloads
17,404
Publisher
StreamingStar Inc .
Homepage
HiDownload
Publisher's Description
HiDownload is a multi-threaded download manager that allows you to download individual files (or lists of files) from web and FTP sites while maximizing the potential of your internet connection. It also supports multimedia streaming and and RTSP (Real Time Streaming Protocol) with optional resume, enabling you to download movies, music and capture streaming video and audio,record radio from Internet. It also offers a tool to analyze MMS/RTSP URLs, as well as a built-in Broadcast Manager. In addition, it provides all the standard features of a download manager, including scheduling, drop basket, download history, clipboard monitoring, download categories as well as zip preview and more.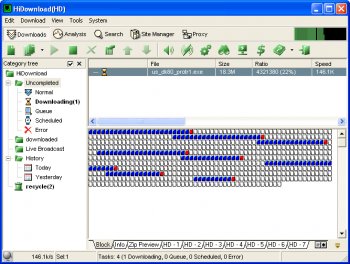 View Full-size
Latest Reviews
YStevaert reviewed v7.76 on Apr 13, 2010
MALWARE
MMPD reviewed v7.2 on Aug 15, 2008
I have been using this program for two years now for recording on a schedual an audio stream. All in all the program is stable, so I give it 2 stars for that, and 1 extra star for recording the stream.

However, the interface needs work, and the stream recording repeat settings need a ton of work. I have been having issues with getting it to record when I have set it to specifically record at a repeated time each week. The only way I can get it to record is to stop the cycle and start it over again for before the program is going to record again.

I have reported this bug to their support desk many times as a bug, but it has never been able to be fixed. I really would rather give this program at least a 4, but because of what I outlined above I cannot.
AlphaBetaGamma reviewed v7.19 on Jul 8, 2008
At least one reviewer apparently hasn't the foggiest idea of what HiDownload is all about. It is mainly for recording streaming audio and video (e.g., MP3s and WMAs, etc.), which has very little to do with the average "download accelerator". If you don't know that you need it for this purpose, then you probably don't. It works well for me, though some of the buttons and operation are not as intuitive as they should be. They need to work on the interface more.
Matenka reviewed v7.19 on Jul 8, 2008
There are plenty of other FREE Download(accelerators) out there. Why waste $40 for something like this? It just isn't worth it. I don't want to give it a 1 just because it's Shareware, developers put time and effort into it, but there are WAY better programs than this.
barcrest reviewed v6.9 Beta 4 on Jun 9, 2006
For downloading music videos this is great, with the URL Helper i have yet to find a better method.
keir reviewed v6.9 Beta 2 on Dec 10, 2005
3 is being generous, as it works judging by what people say. I gave up after it became apparent that I couldn't use it at all without registering, not even for a trial. Also URL Helper is not a feature but something extra you have to pay for, plus it didn't seem much use to me as 'select adapter' didn't offer me anything which appeared to be my internet connection. It gets 3 though as I don't know any other simple way to get rtsp etc - the excellent freedownloadmanager certainly doesn't do it.
kgruber reviewed v6.9 Beta 1 on Nov 27, 2005
The program is relatively simple and uncluttered. I gave it four stars because it does what it says and is a light download. I would give this program a five if it had a smaller memory footprint (e.g. less than 8MB).
Tokar reviewed v6.9 Beta 1 on Nov 27, 2005
yizuman: these people are doing a lot for this world. Programs like HiDownload are going to save lives some day. :rolls eyes:

Call me when this guy makes some software which will save lives...then I will consider respecting his decision to make it shareware.

When you make software which does something that a lot of other freeware programs do (and do better in a lot of cases), then what is the point of making your software not free?

As long as the competition to Microsoft's Windows and Office aren't up to par with Windows or Office, I am fine with Microsoft not making their softwares free.
Yes, Linux and Open Office are nice alternatives, but most people need MS Windows and Office to work with their programs/documents.

Key word: need.

Programs like HiDownload are a want...or desire. Not a need.

Its a great program, but I don't NEED it. I like to have it, though.
klingon379 reviewed v6.9 Beta 1 on Nov 27, 2005
Hey yizuman, have you ever heard of opensource software? Most opensource software outperforms its shareware and other closed source software counterparts. The best part? It's free!
yizuman reviewed v6.9 Beta 1 on Nov 26, 2005
Tokar:
"Great program...I only wish it was free.."

What's with people wanting shareware to be free? People who author softwares do it for a living to feed their families and pay the bills.

Seems to me that everyone wants Shareware to be FREEWARE! (rolleyes)