File Details

File Size
10.1 MB
License
Subscription, $24.00
Operating System
Windows (All)
Date Added
January 7, 2021
Total Downloads
24,246
Publisher
SurfRight B.V.
Homepage
HitmanPro
Publisher's Description
HitmanPro is a fast all-in-one tool to locate, identify and remove viruses, spyware, trojans, rootkits and other types of malware. The executable can be downloaded and run straight from a USB Flash Drive, CD/DVD, local or network attached hard drive and will quickly reveal the presence of any malware. Hitman Pro uses innovative cloud computing techniques to detect and remove potential malware threats with minimal impact on system performance. A further benefit of this technology is that you need never again download definitions on a hourly / daily basis as this is all managed in the cloud further reducing the impact on your PC. Hitman Pro will work alongside any existing anti-virus/anti-spyware or security suite and can be simply run whenever required to give a second opinion or be called upon to remove threats missed by your existing software. Scanning your PC is free for the life of the product and in addition removal of malware is also free for the first 30 days, thereafter, users can take a paid for subscription to cover malware removal in the future. The innovative Early Warning Scoring (EWS) technology allows users without internet to remove potential malware - no subscription required.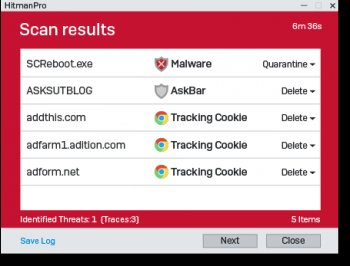 View Full-size
Latest Reviews
CyberDoc999 reviewed v3.7.14.276 on Sep 10, 2016
good app not really any better or worse than Malwarbytes
CyberDoc999 reviewed v3.7.9.221 on Jul 20, 2014
used to be good now only average .. lots of false alarms
CyberDoc999 reviewed v3.6.2.171 on Oct 14, 2012
they took away the best feature the ctl shift click and it kills all unknown programs..... I had to revert to a prev version and block updates.... for that they get a 1 star
Music4Ever reviewed v3.6.2.171 on Oct 11, 2012
I pay for my AV & Anti-Malware & used Hitman & subscribed but all it ever found it found were FP's & caused far more grief than assurance. -

But to see what's changed I installed & ran it today - It found 'Ad-muncher' as suspicious - Nothing else just a well known unmodified program -

From the risk log Hitman produced -

C:\Program Files\Ad Muncher\AdMunch.exe
Size . . . . . . . : 595,144 bytes
Age . . . . . . . : 89.4 days (2012-07-13 23:21:13)
Publisher . . . . : Murray Hurps Software Pty Ltd
Description . . . : Ad Muncher
Version . . . . . : 4.93.33707

That's why I stopped using it & it seems little has changed, I have yet to see Hitman being used in any mal-ware removal guide. Get (buy) a decent AV, buy the full version of Mbam - Sorted - Add to that you get no discount for loyalty & no reply to the email asking why.
CyberDoc999 reviewed v3.6.0.161 Beta on Jul 25, 2012
Lets see free stuff is good and paid stuff is junk.....
nothing but trolls here.....

Hitman Pro is the best of the best
HeilNizar reviewed v3.6.0.161 Beta on Jul 24, 2012
Junk.
-Lord- reviewed v3.6.0.161 Beta on Jul 23, 2012
Previously I left a less than perfect review for this software, indicating that it was pretty worthless considering. Strangely, my review no longer shows up. So here it is again. Worthless. Only goes after "incidents" that are already widely known and have removal procedures in place.

Avoid. and -1 for removing my previous review... would that be to artificially boost the overall score? Who knows.
Music4Ever reviewed v3.6.0.158 Beta on Jun 11, 2012
Due to using sigs from a variety of sources the chances of FP's are high. I did have a subscription but I was surprised on renewal there was no discount for current users & as it found many FP's while I was subscribed so I found it was more trouble than it was worth ~
Budgie29 reviewed v3.5.9.122 Beta on Jun 1, 2011
installed OK No bosd (windows 7 pro sp1)

i found the interface basic and options menu cleanly laid out
scanning was fast and dected a few cookies and it did not like pdf suite this being a legit program and not a virus as it claimed .... and as for wanting Then it wanted £17 pounds to remove the the i terms ..
it was difficult to quit the program and and to resort to CTRL ALt DEl

would be nice to have a trail peroid to full test the program its a beta and should be freeware walst in beta
Input Overload reviewed v3.5.9.122 Beta on Jun 1, 2011
Hitman failed to clean a Root-kit/Boot Virus on my sons PC. it found them but was unable to clean, in the end the FREE Norton Malware Remover cleaned it after a reboot. I won't be renewing my subscription to Hitman as it failed on the one time it was needed. A wasted £17 for my son.

Also neither did Eset Smart Security remove it. Super Anti-Spyware v5 didn't even find it & Trojan Remover never found it either. I was very surprised Malwarebytes could not remove it. The free Kaspersky Malware removal tool also failed to either detect or remove it. All were run in safe mode as well as in Windows. Glad I use NIS now. An interesting learning curve.

All were run legally.