File Details

File Size
1.8 MB
License
Shareware, $24.00
Operating System
Windows (All)
Date Added
March 31, 2015
Total Downloads
434,392
Publisher
Alexander Berezkin
Homepage
Hmonitor
Publisher's Description
Hmonitor checks the temperature of any component on your computer with a sensor. It also has alarms that can be set when the temperature goes too high, and even has built in software cooling. It was developed as a light-weight alternative to Intel LANDesk Client Manager. It takes less memory and monitors only those parameters that are collected by various sensor chips installed on modern motherboards. The program icon resides in system-tray area of Windows desktop.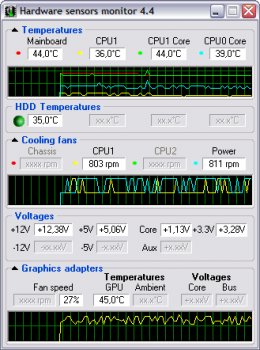 View Full-size
Latest Reviews
hwinfo32/64 is a much better and FREE alternative.

Not to mention hwmon and open hardware monitor.
some guy reviewed v4.5.3.3 on Oct 7, 2012
wholemkt9 go fu*** your self!
Starjunkie reviewed v4.4.0.2 on Feb 25, 2008
I've been using Hmonitor for a few years now and have to say that it is probably the most useful, or most necessary, utility that one can have. After burning up one processor, due to a dirty heat sink and faulty fan, I searched for and tested several utilities to help me monitor system health. Hmonitor was by far the best of the lot. Hmonitor has since saved me the headache and expense of replacing another processor, and probably video card, by catching an overheating problem when the main air intake(s) became blocked when the cat decided that around the computer case was a prime place to store his toys. Processors, video cards, etc. are running much hotter these days and often the stock cooling setup is barely adequate. Stock power supplies are often not up to the demands placed on them, especially as we upgrade processors, video cards, etc. Hmonitor's logging and reporting is indispensable when trying to track down cyclical and other mysterious temperature spikes. The software is easy to install, has a small footprint, minimum resource impact and is non-intrusive. Voltages, temperatures and S.M.A.R.T. monitoring are all reported in one place in a very readable interface. Very adaptable and configurable. The author is very responsive to the needs of his customers, service is excellent. I would (and do) recommend Hmonitor to everyone - a very reasonable investment to make to protect a much larger investment.
stranger reviewed v4.4.0.2 on Feb 22, 2008
To HeyBlinkin: Why didn't you write to the author about your problem?
The note on the support page says:
"I still need help in testing for various notebooks models. If you wanna help, send me a message!"
He added support for my Compaq notebook in few hours!
Excellent support!
HeyBlinkin reviewed v4.4.0.2 on Feb 21, 2008
Looks cool, but none of the meaningful monitors worked on my HP dv9500 Pavilion laptop. Only the HD monitors worked, and that is nothing to boast about since there are like 200 other programs which monitor HD temperatures.
wideload reviewed v4.3.2.1 on Nov 22, 2007
Hmonitor saved me an expensive failure on my system. I running a AMD Dual Core processor. The fan for it was stating to fail and Hmonitor alerted me. I was able to replace the fan. That cost me $15.00. It would have been VERY costly to have had to replace the processor. And it's possible that other components might have been damaged as well. I wouldn't have a high end computer without it.

Thanks for designing this useful utility.
armpit reviewed v4.3.1.2 on Jun 21, 2007
Displays a message about an "unknown internal error" after running it for the second time, can't run it anymore. This demo only runs for 10 minutes at a time and only for 2 weeks, wtf? It deserves a zero.
Zerbe reviewed v4.2.5.2 on Aug 30, 2006
I cant even run it, I try to and my system just powers down, right then and there, I have to unplug the power, then start it backup.
RKOIV reviewed v4.2.4.2 on Mar 22, 2006
Hmonitor
Great software does what it says it does.Don`t run my computer without it! AB Software keep up the great work---very useful---makes my computer run better.
As for the author of Hmonitor -- he is straight forward and tells you like it is. I only know him through email and he set me straight once. I would and will do business with AB Software in the furture.
RKOIV
m@rio reviewed v4.2.2.1 on Aug 30, 2005
I've tested the trial version for a couple o days then purchased a license because I find Hmonitor useful for my needs, compact and drain very few system resource.

The author add full support for my Intel D945PVS board in 1/2 day.

I give it a rate of 5