File Details

File Size
3.0 MB
License
Adware
Operating System
Windows 2000/9x/Server 2003/XP
Date Added
October 20, 2004
Total Downloads
44,694
Publisher
ICQ, Inc.
Homepage
ICQ
Other Versions
Publisher's Description
ICQ is a program that lets you find your friends and associates online in real time. You can create a Contact List containing only people you want to have there, you can send them messages, chat with them, send files, configure ICQ to work with external applications and more.
ICQ Lite is pure messaging: It includes only the most popular features of ICQ, such as instant messaging, file transfer, SMS and meeting people, for super-quick communication. Because it's so small and has everything good about the full-featured ICQ made easy, it's the perfect version to send to your friends and get them on ICQ. It is a new experimental version of the ICQ software and is still under development, may be unstable and is likely to contain bugs. Contains no advertising. Now you can add AIM and AOL users (screen names) to your contact list and chat with them like with any other ICQ user. Searching for AOL or AIM users is not yet available, but you can post your ICQ number so AOL or AIM users can add you, and to get screen names of new AOL and AIM friends to add to your Contact List.
This is not the ICQ Web-based client that has been renamed to ICQ2Go!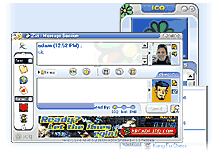 View Full-size
Latest Reviews
crowbar82 reviewed v5.0 Beta Build 2235 on Dec 14, 2004
I agree with utomo, ghostt & TheWolf19xx.

I dont like MSN Messenger but ICQ can be better. But I dont think its so bad that it gets a "1".
utomo reviewed v5.0 Beta Build 2235 on Dec 14, 2004
Need to be improved

I. for SMS
1. It cannot send to Indonesian Mobile example +628128081XXX and other number too
2. There is no character counter.
3. add special character keypad, example the enter (to change to next line)
and others

II. Voice chat if we behind a router using local IP, is not working. meanwhile using YM working.
III. Resources used by ICQ need to be reduced
IV. It need better spam control, and also make user easier to blok spammer, etc.
ICQ also better creating a forum to collect all suggestions from beta tester, and also look at discussion forum in various beta site.
TheWolf19xx reviewed v5.0 Beta Build 2235 on Dec 13, 2004
This is the most reliable IM program on the market. It does not have the option of connecting with other programs to IM, like Trillium, and MSN 2 , etc. which is great. I am not sure who has the use for more than one IM program to talk to friends.

Secondly, for the MSN Messenger users , if I wanted an individual email program for offline users I would download an email software. MSN needs to seperate Hotmail and MSN Messenger and give it an offline send feature.

ICQ has always and will always be the best IM Program.
RaveN-FH- reviewed v5.0 Beta Build 2235 on Dec 13, 2004
you mean i can have a number assigned to my forehead that appears completely random to me is AND impossibe to remember? how cool is that! This version comes with such great things as "Use Enter key to send messages" ... and to think anybody ever doubted this project should be continued over winamp.
Klusternisse reviewed v5.0 Beta Build 2235 on Dec 13, 2004
ICQ 2001b still the best :)
Musashi_Sama reviewed v4.14 Build 1839 on Oct 21, 2004
NO!!!! Where's the light thing on this ICQ ? Only in the name I guess.
The ICQ developers maybe makes the icq in a computer from NASA and thinks that anyone have one... :(
crowbar82 reviewed v4.14 Build 1839 on Oct 20, 2004
ICQ 4.14 (build #1839)
Fixed:
*SMS MO message does not arrives correctly to ICQ client.
*Privacy & security bug that enabled the exposure of the user's IP address to anyone without the knowledge of the user.
FailedCRC reviewed v4.13 Build 1837 on Oct 12, 2004
the ICQ network is still easily the most stable and streamlined im network - shame the client has gone the wrong way.
Rafiiru reviewed v4.12 Build 1836 on Oct 9, 2004
It is sad that we are now force to look for the Lite version of ICQ Lite ...
If we want functionalities (I am not going to argue what does the word functionality means), we would have stuck with ICQ PRO. Now ICQ Lite v4 is more than 2x the size of v2 and growing. Not to mention, it is slow, buggy and resource hogging.
There is a reason why people with 5~6 digits of ICQ# no longer using it, because ICQ 99b was simply better and did what it was designed to do ... to chat with friends and that is it.
kmleow reviewed v4.12 Build 1836 on Sep 6, 2004
I like ICQ but not the lite version, I strongly prefer the PRO version. What happened to it? No development anymore?