File Details

File Size
10.9 MB
License
Freeware
Operating System
Windows 7/2000/Vista/XP
Date Added
April 28, 2012
Total Downloads
34,995
Publisher
IObit.Com
Homepage
IObit Game Booster
Publisher's Description
Iobit Game Booster is designed to help optimize your PC for smoother, more responsive game play in the latest PC games with the touch of a button. It helps achieve the performance edge previously only available to highly technical enthusiasts. It works by temporarily shutting down background processes, cleaning RAM, and intensifying processor performance. That means you can keep all the features of Microsoft Windows 7, Vista and XP ready for when you need them, but turn them off when you are ready to get down to serious business - gaming. Game Booster makes it simpler to enjoy the latest games and take your experience to a new level.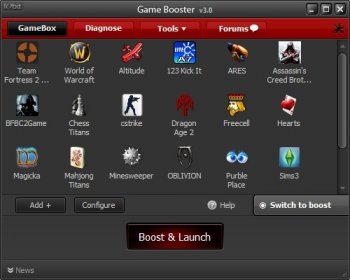 View Full-size
Latest Reviews
johndevid4 reviewed v3.5.0 Beta on Feb 20, 2019
In today's date, I have seen many people used this. Also, I used it and that beta version is great for all. I have windows and from the windows app store I got the windows app store and from this, you will be very helpful. Faced any issue with it then just browse https://errorcode0x.com/...ate-error-code-8007000e/
lindamitchell reviewed v3.5.0 Beta on Apr 9, 2013
i love this game booster ive used this 1 for almost a yr now ive tried a few other ones and didnt like them
Mirrebex reviewed v3.5.0 Beta on Apr 30, 2012
Owned by reviews.. lol.
gatorfan95 reviewed v3.5.0 Beta on Apr 30, 2012
Piece of junk like most IObit products. When you try to restore the processes it shuts off. half of them don't come back. In addition it offered no significant increase in game performance that I can see.
Music4Ever reviewed v3.5.0 Beta on Apr 30, 2012
How can you trust any company that plants fake reviews? There are two here therefore:

No Stars ~

IObit we are not that stupid ~
fatray reviewed v3.1 on Oct 30, 2011
I use this often, works very well. Unloads a bunch of memory by closing memory hogging system files that you wouldn't need running while playing a game. Totally customizable to close what ever you want, when your done playing it automatically reloads everything that it closed.
Without this I wouldn't be able to run games. Very useful, a small download, easy to use, and of course free. For those of you who can barely run one of those new games, I recommend you get this ASAP. A must have for lower end computers.
armpit reviewed v3.0 on Oct 5, 2011
Useless piece of software, it won´t make your games run faster, only a newer PC will do that. Beware of these fake reviewers selling snake oil.
alexalex reviewed v3 Beta 3.0 on Aug 25, 2011
It can automatically detect and close the useless services, and more system resources will be devoted to the game. Smoother play and image display. This is my favourite utility for game playing.
rebeccahart reviewed v3 Beta 3.0 on Aug 23, 2011
I like playing games very much. Using this program to launch fast and more responsive game play, I had wonderful game experience. I used to pay for Game Booster, but now version 3 is free for all users. Very nice.
Their products and service are good. Nothing to complain about them.