File Details

File Size
12.2 MB
License
Freeware
Operating System
Windows 7/Vista/XP
Date Added
January 13, 2017
Total Downloads
30,936
Publisher
IncrediMail Ltd.
Homepage
IncrediMail
Publisher's Description
IncrediMail is a free email program that manages all your email messages, communication, contacts details, and email transactions. IncrediMail is all about having fun with your email.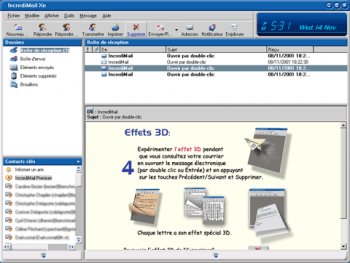 View Full-size
Latest Reviews
donahu1 reviewed v2.5 on Mar 5, 2020
THEY ARE CLOSING SHOP! 20March and no more incredimail
ektek3 reviewed v6.29 Build 5026 on Mar 8, 2012
I too was taken in by Incredimail early on. When it first started it was great. Good Junk Filter included! I went ahead and purchased Incredimail Premium and my wife and I loved it. Then they came out with Incredimail 2 and Junk Filter Plus! At first the junk filter was included (and yes it was fairly lame as far as doing its job) and then they wanted $39.95 per year! You have got to be kidding me! For a few years I complained and Ofer Adler (Yes we were on a first name basis) would send me a new license key, but then I did not hear from him for a while. I finally dropped Incredimail 2 and switched to Windows LIve Mail, which isn't bad. Currently I am checking out eM Client and so far I like it. I will never go back to Incredimail the way it is now. It is a piece of crap now.
jonnieb57 reviewed v6.29 Build 5026 on Jan 26, 2012
Straight to the point

I have been using IM for more than 8 years. I am a paying member (so I have lifetime priveledges, except for the spam filter).

ONCE UPON A TIME THE PROGRAM WAS GOOD. That is why I had tested it and then payed for my membership.

In the meantime it has become something else entirely.

The SPAM FILTER function (which you have to pay for) is USELESS. It lets so many things through, does not learn and is a great waste of money. My free Yahoo account is far, far superior.

As a lifetime payed member there should be no advertisement on the outgoing emails. SURPRISE - suddenly they have appeared again! I also receive adverts for their new products - - constantly jumping up at me when I open the program.... "please buy me too!!!" WHAT? This is inexcuseable.

CUSTOMER SUPPORT - what is this??? This has deteriorated to nothing more than an automatic message transmitting service. No one answers my questions any more - no one cares!!! After all, I have already paid, right? Inexcuseable.

SUMMARY: Do NOT buy any Incredimail services. The free stuff is for sure still good (and enticing), but they are currently trying to get you hooked.... and doing a good job..... but when you are an addict, they will destroy your services and disappoint you , leaving you frustrated, alone, and wondering just what happened.
chuckcloninger reviewed v6.29 Build 5026 on Jan 19, 2012
Okay, let me throw in my 2 cents worth. First, I have no impressive credentials as a computer expert. I use a computer mostly for business and to keep in touch with friends and such. So I guess I'm just an average user. I bought a new laptop (Toshiba) and began downloading some programs and ran across Incredimail. Thought I would download it and take a look. I did and thought it was a little too juvenile but that my 8 year old might like it to send to his friends. However, the computer at that point began having hiccups. Well, worse really because it began running so slow and was sometimes completely unresponsive. So I had to write down all the programs installed, all the favorites I had garnered....you know all the stuff you do when you are going to take it back to the original configuration. I dumped it all and started fresh and now I have a computer that works again. I can't say for sure it was Incredimail but that is the only thing I can put my finger on so I won't be using it again and if anybody asks me I will tell them to stay away. That's all I have.
stu99228 reviewed v6.29 Build 5026 on Jan 16, 2012
Incredimail ripped me off. Bought a lifetime license for Incredimail XE Premium and letter creater. Now neither are any good. Have to pay to upgrade to 2.0 which won't install on my computer. Anyone interested in a class action lawsuit stu99228@gmail.com Would have rated lower if I could. Customer support sucks
PJ161 reviewed v6.29 Build 5026 on Jan 8, 2012
I've had Incredimail ever since they first came out back in the 90s. I paid around $58 for the bundle package with IM-PREMIUM and LETTER CREATOR. I upgraded my computers to Windows 7 and now imail tells me my (Paid for) LIFETIME license is not valid! I dropped them and went to Windows Live Mail, which works great but, I have accumulated so much information in imail, it's near impossible to retain it all and move it to another program. As I have saved the data to a stick, I can access it and recover some of the mailings one at a time, but it will take forever. So I'm trying to get my licenses back and recognized by the program. Another thing is the I mail "2" doesn't recognize some older saved emails from earlier programs and displays them in unreadable garbage. PJ
so I'm trying to get my license back from them.
incrediaddict reviewed v6.28 Build 4960 on Jun 22, 2011
After reading some of the comments I'm a bit confused.. slows down the computer? Takes ages to get mail in? I have been using IM for the last 9 years and I'm still very happy with it, the only thing is that you need to do is stay away from each update they give.. if you have a build that works.. STAY WITH IT! In the last 9 years I only updated when I really needed too (really outdated build) and never ran into problems.. so no I don't have IM2 and won't as long as I keep reading there are problems with it.. I'm not bold, not a real computergeek so I'm careful... all my contacts are saved on a flashdrive as is the stationary.. I have several people that have 2 or more addresses I just put a 1, 2 or 3 after there name and they all save so wonder why the fuss is about on that too.. the only minus I have is that each time they have a new build that window to update jumps up altough I have the option "check for updates" unchecked
Yeti reviewed v6.27 Build 4918 on Apr 19, 2011
It ought to be possible to rate something like Incredimail 2 lower than 1.
I bought and used Incredimail for some years, as it gradually added more and more irrelevant options and kids' stuff. It seemed easy to use.
Gradually, I had more and more problems.
Then, one day, the pop-up offer was to migrate from Premium to Incredimail 2.
People, the great variation of scores given to this program probably reflect the experiences of those on basic Incredimail and those trying to live with 2. 2 is a disaster. It reflects the changes in the company's attitude, in that it is selling all day. I suppose we all feel as disgusted as each other by the recent way they structured things to prevent being asked for support/help.
I think I have probably experienced at least all the problems mentioned in the reviews, culminating in a newish laptop freezing and then emptying itself of files.
For some time, I have been learning how to use Pocomail - a grown-up mail client.
Goodbye Incredimail and, to anyone thinking of buying it... do yourself a favour. Don't.
morary reviewed v6.27 Build 4918 on Mar 22, 2011
I started using Incredimail 6 years ago and at that time I really enjoyed it because of all the cute things you could do.ex.Beauty and the Beast dancing to the song, roses opening and closing to the tune of Phantom of the Opera ect. A few years ago I downloaded incredimail 2...bad mistake. Multiples of each email, like 10 -20 each started bombarded my mail box. the more I tried to get ride of them the more they incresed. Not being more pro-active I now have 128,369 emails in my box. It takes 30 min. to download anything on line. I can't just trash it all because I have e-bills, receipt etc. I am afraid I will lose them. I can not find a telephone number or
email address to get information from them. The "chat" on line for help is a joke.If I ever get this mess straightened out I will never touch Incredimail again. If anyone has a contact # or address Please, Please post it for me. I'm an old woman and I am afraid I my die before this mess gets cleared up!!!
djclermontfl reviewed v6.25 Build 4807 on Jan 8, 2011
It takes forever to open or send an email, and it constantly freezes up so I can't even see what I'm typing. I can type a whole sentence and nothing shows up for five minutes. The only reason I kept it for so long is that it would not allow me to export my mail to Outlook Express so I could uninstall it. I just bought a new computer, and I have sent all of my email to a new gmail account so I could uninstall this s*** from Hell just to make sure that it doesn't somehow get into the new computer by accident. I WILLl NEVER USE THIS CRAP AGAIN!!!!