File Details

File Size
1.9 MB
License
Freeware
Operating System
Windows 2000/9x/Server 2003/XP
Date Added
November 21, 2002
Total Downloads
24,784
Publisher
Intel Corp.
Homepage
Intel Application Accelerator
Publisher's Description
Intel Application Accelerator is a performance software package for Intel 800 series desktop PCs. It reduces the storage sub-system bottleneck, enabling the processor and other system level hardware to be more productive and efficient. It delivers faster overall system boot times by significantly accelerating the load time of the OS - enabling you to build Intel Pentium 4 processor-based systems with a better overall end-user experience. Also included is the diagnostic utility that provides detailed information on all of the system IDE storage devices including hard drives, CD-ROMs, DVD-ROMs, CD-RWs, CD-Rs, and removable media.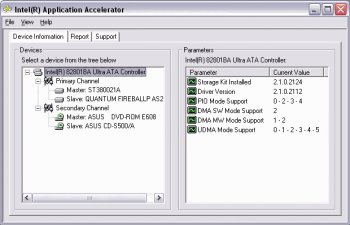 View Full-size
Latest Reviews
ixxy reviewed v2.3.0 Build 2164 on Jan 23, 2005
Installed it once, blue screen after restart. Had to reinstall system.
Thought it was some other hardware problem I had, so I gave it another chance few weeks later, since my motherboard requires for this to be installed. Blue screen again. Could not go back to 'last known good configuration', since it really slowed my pc down.

Stay away from this piece of junk.
nycforever reviewed v2.3.0 Build 2164 on Feb 27, 2004
HOLY Shnikeys!!! I feel so bad for that guy who had to REinstall his PC WHOA, I thought that's what i was gonna have to do.. I know its a little old and still in BETA but COM'ON!! Super Blue SCreen after restart is not funny-very scary. Luckily I was able to revert back to my last working windows otherwise I'd be right next to that sad guy Reinstalling my windows. At your own Risk is right. It's a killer I'm warning you. --- 845 chipset
lammas reviewed v2.3.0 Build 2164 on Nov 22, 2002
Runs very well on XP pro with Geforce 4400 card and 845WN motherboard. Runs acutally so well that Sandra reported only slight perfomance drop for my first HDD while I unpacked some huge archive on second HDD on same controller and FTP saving also to the 2nd HDD. Before insalling the accelerator system became so sluggish while unpacking something even the mouse wouldnt move smoothly. I did get blue screens with some earlier version, so its definetly neccesary to make use of the system restore function before installing the driver
Direnc reviewed v2.3.0 Build 2164 on Nov 21, 2002
This is great...I have a motherboard with intel 815 chipset and a Celeron 533 CPU. Before installing this driver, my Win2K would take 75 seconds to boot; noe it's only 55 seconds. It does not make this much of a difference winXP,which already takes less than 30 seconds to boot, though.
dkratter reviewed v2.3.0 Build 2164 on Nov 21, 2002
Do NOT use this with an Nvidia GeForce3 or GeForce4 video card on Windows XP (maybe Windows 2000 as well). It will cause your computer to lose its ACPI functionality, and will force your display into VGA mode with XP being unable to recognize your video card (it might take a couple of days for the problem to occur). An uninstall of it should restore your computer to full ACPI functionality and fix the display.
klumy reviewed v2.3.0.2164 on Nov 15, 2002
IAA runs great for me,

all things went smoother and faster ;)
ogre2112 reviewed v2.3.0.2164 on Nov 6, 2002
"Application Accelerator" - Fancy name for an IDE DRIVER. =)
edlivian reviewed v2.30.2160 Beta on Oct 20, 2002
Great....i would never believe any system could boot that fast, and my system isnt that fast.
Aimo reviewed v2.30.2160 Beta on Oct 19, 2002
still no problems - my system is running excellent, but i'm awaiting the final version.
golbex reviewed v2.30.2160 Beta on Oct 18, 2002
Has anyone here tried this new version yet? The last one didn't go so hot for me. Did anyone's system crash on startup with this one?