Publisher's Description
Internet Download Accelerator lets you to noticeably increase the speed of file download from the Internet using HTTP, HTTPS and FTP protocols. The acceleration is achieved by splitting a file being downloaded into several parts and downloading these parts at the same time. Internet Download Accelerator resumes broken downloads from where they left off from both HTTP, HTTPS and FTP servers.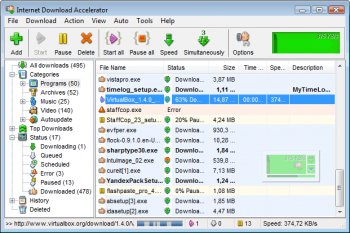 View Full-size
Latest Reviews
baki_princ reviewed v5.8.1.1195 on Apr 12, 2010
i was a fool and young once and give them money for this crap, they are history minor update once in year. Totally unreliable. I often let it download from rapidshare during nights and every morning my system was frozen. There is only 1 downloader and that is Jdownloader and its free. Its perfection.
baki_princ reviewed v5.7.1.1156 Beta on Feb 10, 2009
I downloaded it but is says its steel 5.6 version....They update this program once in a year so it`s up to you yo say is it worthy
poisonu reviewed v5.7.1.1156 Beta on Feb 9, 2009
It is Superb.....
I followed Confuser's recommendation for IDA, & have been using it for almost 1 year......
Tao2005 reviewed v5.6.1.1133 on Oct 29, 2008
I do not argue you guys with your ratings. IDA is a good program. It works flawlessly. However upon registering this product, I have yet to recieve my code so it be comes registered.

I registered it 3 weeks ago, and they failed to gimme a registeration number for it.

So why am I giving them a 2, sense the program is so good. Their support has failed to make the grade. I should have to keep hounding them for my registeration number.
AtomicDog61 reviewed v5.5.2.1130 Beta on Jan 27, 2008
Hey dsilvertx this is IDA not IDM. Make sure your reviewing the right program.
dsilvertx reviewed v5.5.2.1130 Beta on Jan 26, 2008
I really can't understand all of the negative reviews I'm seeing here. I've been using IDM for more than 2 years without any problems on XP Pro SP3. It has the best organizational download capabilities I've seen, is easy to use, and very reasonable in price. No, I am not affiliated with IDM in any way except as a satisfied customer.
confuser reviewed v5.5.2.1130 Beta on Jan 25, 2008
I've been using IDA fr two years WITH RAPID SHARE. Obviously if you don't have e a premium account it won't work. But if you have a Premium Account and PUT you log-in in the aoo and PW it is faultless. I have never had a problem unless the app has been removed. Same with MegaUpload,

I have NO idea what these folks are referring to unless they do not have an account.

CONFUSER
baki_princ reviewed v5.5.1.1109 on Nov 20, 2007
They are lying that download from rapidshare has been improved there is not possible to download from rapidshare without problems. After 10-15 minuts downloading from rapishare my comp is going crazy,CPU 100%, there is not enough system resource to open a folder! There is no response from them even I wrote many emails and post it on they forums. This new version is just more pretty then the former one (they did not updated they softwer for 1 year!)
baki_princ reviewed v5.5.1.1108 Beta on Oct 19, 2007
I have the problem with ida 5.2 and the same problem with 5.5beta! After 10-15min of downlaoding files from rapidshare IDA use CPU 100%, video playback is krk, grhgg, pckhrdz..... mouse pointer is freezing, after restarting my comp icons on desctop is not in mine order.....!
I`m registered user and I adore IDA and I don`t want to use free download menager but I must, what`s the problem!? Please help... Am I the only one who can`t use IDA with rapidshare?
tanga_t reviewed v5.2.1.1057 on Mar 11, 2007
During the last 2 years I've been trying off and on to get this software to work... and I've given up now. The installer won't even start on my new Vista laptop. There's ALWAYS new and old unfixed bugs with every release. On occasion it works very well, speed is good and it usually gets the correct download link thru form buttons and unusually difficult html pages. The most annoying bug is that at least once a day it will seriously put a bug up my computers "inner workings". What happens is that I can't browse the internet (getting only blank pages), programs won't start, can't even start taskmanager to kill the ida.exe process! It won't download from https sites without file errors and it WILL corrupt that 1Gb media file your downloading! I've been posting at the support forum, but without response. I actually bought the software in sept 2006 because of it's feature that can name the download folder to the current date. Brilliant! If somebody knows another download manager who can do that, PLEASE TELL! I'm thru with this one!