File Details

File Size
1.1 MB
License
Commercial Demo
Operating System
Windows 7/8/Server 2012/Vista
Date Added
October 10, 2014
Total Downloads
39
Publisher
Invantive BV
Homepage
Invantive Composition for Word
Publisher's Description
Many organizations experience problems with the optimization of the information supply chain. An often occurring optimization problem is the automatic creation of complex documents with structured data from a database or application. Because of the multitude of complex information and deviating rules per jurisdiction employees spend a lot of time in the creation of documents. This manual and repetitive activity causes more erroneous composed documents and brings with it unnecessary employee costs. For organizations that are dealing with different laws and regulations such as insurers, lawyers and health care institutions, the creation of complex documents is a costly and time consuming task. The automatic generation and creation of documents that meet the laws and regulations is a huge challenge for most.
With Invantive Composition you will have a complete solution for the automatic generation of complex documents that meets the laws and regulations. Invantive Composition allows you to easily retrieve information from your database and process it in Microsoft Word. This way, Invantive Composition makes it easy for you to automatically fill in previously created templates with data from your database. For you this means that you can merge data from your enterprise systems such as: legal pleadings, project budgets, serial letters, employment contracts, insurance policies, license contracts, prices and other structured data into a personal document. The advantage of this is that with Invantive Composition you can manage and dynamically create documents from the Document Management System. Using Invantive Composition to create demanding Microsoft Word documents you can reduce your costs and avoid future damage.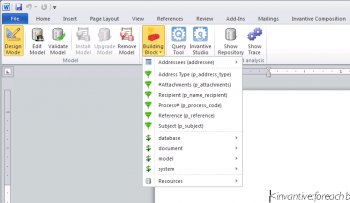 View Full-size
Latest Reviews
Be the first to write a review!
Someone reviewed v on Mar 19, 2023
Pros:
Cons:
Bottom Line:
Someone reviewed v on Jul 5, 2022
Pros: 555
Cons: 555
Bottom Line: 555