Publisher's Description
Iraqi Most Wanted Card Games is a premium collection of 5 great card games using the Iraqi Most Wanted Playing Cards. They were distributed to the coalition soldiers to help capturing the wanted people. All of the games are beautifully rendered with incredibly detailed graphics and feature challenging game play for hours of fun. The Best card games are here: Klondike (Solitaire), Free Cell, Touch 21, Touch Towers and Win11. Each game has its own Hall of Fame and Manual.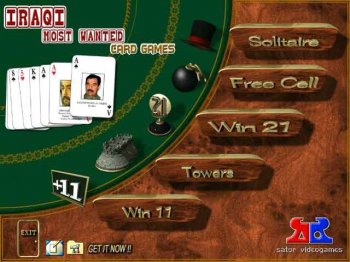 View Full-size
Latest Reviews
Nikkie reviewed v1.0 on Jun 22, 2005
Very nice card game . Too bad you have to pay .

Though , It is worth seeing people give credit to filthy animals and giving them the title they deserve .

I love the reviews of the morons below . You guys are idiots and your country would be doing the samething mine is .

A lot of people are hypocrites and need to research their info a bit more ... maybe try some unbiased sources and not being such a follower .

Tools ..

Also ,I would hope you are not a friend of such people like sadam .

''Americans seem to forgive whatever their allies do as long as they get what they want. If Saddam had remained "pro"American he would still be in power.''

Counties use eachother until they are done with whatever it was that they needed . EVERY country does this .

We may forgive but we never forget .

You need to look beyond the media hype of con and lib ... Think less about usa being this country everyone has been raised to hate and apply another countires name to the actions being taken out . Do you now hate those countires too ?

I guess you should cause they have ''been there and done that''

Not one countries hands are clean of blood .
blackpages reviewed v1.0 on Jan 31, 2004
Looking forward to seeing World's Most Wanted Card Games. Featuring John Howard, Silvio Berlusconi, Jose Maria Aznar, Tony Blair, and George Bush as the Worlds Most Wanted Tyrants, for The War On Tyranny.
Orlando reviewed v1.0 on Jan 7, 2004
Terrible!! Let's see, terrorism is the killing/murder of innocent civilians. Hmmmm, how many thousands and thousands of innocent women and babys did Bush, Cheney and Rumsfeld and Tony Blair murder in this war. So therefore Bush and Blair are terrorists. Why doesn't Bush invade China? That's a brutal Communist dictatorship. Why? Because they have nuclear weapons. Bush/Blair have just taught the other nations of the world...you better develop nuclear weapons and quick, or someday we might invade your country to if you have a weak military. This is a sick excuse for a "game".
Very weak. Clumsy interface, poor execution. Even the graphics are grainy.

Don't waste your time.
Floodland reviewed v1.0 on Jan 6, 2004
What? Someone wants MONEY for washing your brain?
Sick, what a decadent useless evil idea... Maybe a deck with Bus***, Rumsfold, Chenney and Sharon could make a cent, but not this one...
I'm still waiting for a valid reason for that war... No weapons at all. Ok, Hussein is a murderer? And how many *inocent* people did Bus*** kill? And how many destruction weapons the U.S. have? In a alcoholic hand?
Sorry, this review is about that nasty card deck, well, supprisingly BAD.
tvaccari reviewed v1.0 on Jan 6, 2004
The whole idea of the game is a bad idea. Plus to charge for this??
DavidGreen reviewed v1.0 on Jan 6, 2004
In the words of Homer J. Simpson, "MMM, Beeeerr."....no, the other one..."USA! USA! USA!"
ogman reviewed v1.0 on Jan 6, 2004
Just as dumb as the original deck!
geekz reviewed v1.0 on Jan 6, 2004
What a moronic idea!
dejavu reviewed v1.0 on Jan 5, 2004
Games just for fun!