File Details

File Size
7.6 MB
License
Shareware, $29.95
Operating System
Windows (All)
Date Added
June 19, 2023
Total Downloads
105,208
Publisher
Smart Projects
Homepage
IsoBuster
Publisher's Description
IsoBuster can rescue lost files from a bad or trashed CD or DVD or a Blu Ray disc (e.g. BD or HD DVD). Save important documents, precious pictures or video from the family, your only system backup, etc.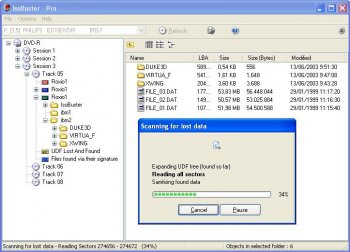 View Full-size
Latest Reviews
FatBastard reviewed v3.4 on Aug 22, 2014
I'm surprise this ancient software is still around.
Most programs don't last as long.
olivergiving reviewed v3.2 on Sep 25, 2013
isobuster rocks
DrTeeth reviewed v3.2 Build 3.1.9.2 Beta on Apr 21, 2013
I have only had to use this 'in anger' once and it salvaged all my data. The developer is responsive, knowledgeable and polite. Licence well worth the money.
Philidor reviewed v2.9 Beta on Feb 18, 2012
I use the free functionality to recover files from deteriorated CDs. Best I've tried.

But there is a learning curve. Use the blue option to recover your files as they were rather than in other formats (Iso, etc). Be careful that the level (there are Sessions) includes all your files. If you can avoid having it try to recover files written on bad (as opposed to damaged) sectors, do so. You'll save a lot of time. Check the files recovered; there may be parts incompletely copied. Another try might help.

The result is worth the attention.
Otto_technica reviewed v2.9 Beta on Feb 12, 2012
I used to love ISOBuster, but now that they are installing crapware ("ISOBuster Toolbar") this package is being added to my ALP (Avoid Like the Plague) list.
I don't mind someone trying to make a buck on an excellent product, I just prefer people to do it honestly. At least make the option to install crapware deselcted by default.
cybergonzo reviewed v2.4.0.1 on Dec 18, 2008
Excellent soft !

Sweet and powerfull !

The toolbar can be unchecked during install and the new version's toolbar doesn't change the homepage anymore (it was a bug in fact, see change notes)

This software CAN and DID recover my corrupted Video ! I'm so glad I recovered our daughter's birth.
alexkirck reviewed v2.4.0.1 on Nov 6, 2008
Stay away! This ISO Busturd overwrites your Internet settings, adds toolbar add it's logo to start page without even informing you!
sps reviewed v2.4.0.1 on Sep 2, 2008
Impressive!
DaveBG reviewed v2.4.0.1 on Jun 1, 2008
Seems awesome app!
poisonu reviewed v2.3.0.1 on Dec 22, 2007
Best of breed!.....