File Details

File Size
5.1 MB
License
Shareware, $29.95
Operating System
Windows (All)
Date Added
June 8, 2021
Total Downloads
104,921
Publisher
Smart Projects
Homepage
IsoBuster
Publisher's Description
IsoBuster can rescue lost files from a bad or trashed CD or DVD or a Blu Ray disc (e.g. BD or HD DVD). Save important documents, precious pictures or video from the family, your only system backup, etc.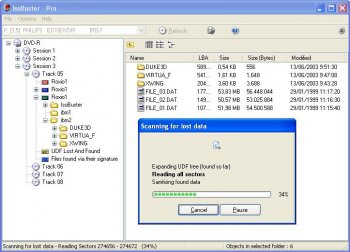 View Full-size
Latest Reviews
Kolakham reviewed v4.8 Beta on Jun 12, 2021
Most affordable and best stay in Kolakham Hotels. Amazing view of Kanchanjungha from our Resort
best kolkham hotel/best kolkham resorts
book online best kolkham hotel/best kolkham resorts
http://www.rupasibangla.in/kolakham.html

Kolakham village, Wagtail is located down the Lava and can be reached driving through ten KM in the gravel road. The scenic beauty of the road is real visual pleasure as the road is curved through the dense and lash green tropical and alpine trees. If you are lucky you may come across some wild inhabitants of Neora forest.
On a clear day the majestic view of Kanchanjungja on first sunlight can be a real visual pleasure and a lifetime experience in Kolakham. The wide open view of Neora Valley and Kanchanjungha range from your homestay window is rewarding during your stay in Kolakham. From Kolakham the plush valley and also the rolling hills stretch north as so much the eyes can see. Within the west, they finish at the foot of the Kanchanjanga. In clear weather, the snowy peaks of Kabru, Kabrudome, Kanchanjanga and Pandim stand out against the stretched sky. Nathula and Jelepla passes in Sikkim is seen from Kolakham.
Kolakham is a paradise for exotic bird lovers, adventure seekers, rock climbers and trekkers. Many trekking routes to Neora Valley and Sikkim originates from this small village. Even one can reach Kalakham from Lava or Rishop by trekking.
Kolakham offers an array of activities like hiking, trekking and rope traversing to create your keep additional fascinating. You will conjointly relish village walks or nature trails on the picturesque landscape of the region. Expertise an exciting jungle camp at Neora Valley Park, which boasts of its superb variety of species of plants, animals and birds. You can also explore the forests close to Kolakham and hike over the rocks to savour the view of a splendid waterfall.
http://www.rupasibangla.in/kolakham.html
http://www.resavenue.com...19&targetTemplate=2

Rupasibangla- The Fly Catcher Resort
Neora Valley National Park, Kolakham, Kalimpong, West Bengal
Kolakham is almost hidden village under the sky scrapping alpine green trees. Book The Fly
http://www.resavenue.com...19&targetTemplate=2
Kolakham is an adobe of beauty. It is a pristine small hamlet located in Neora valley national park, just 10 KM from the monastery town Lava and 40 KM from Kalimpong, the second Municipal town of India. Every morning sun kisses this tiny village with warmth of love. The Majestic deity of eastern Himalaya, the Kanchenjunga range looks majestic from this place in a sunny day.
Twittering bards, clam and cool pollution free atmosphere and the greenery of alpine forests makes this place ideal place for family, solo or group travellers. The nature is gift of god here. The high rising evergreen forests does not allow the sunlight to reach its base and preserves few delicate flora and fauna.
High Waterfall, tiny village and the simple people attracts thousands of people around the world. Simple organic food, natural beauty, clean and hygienic homestays are key to business developments in this area.
Nevertheless to say, anyone can enjoy the beauty….with friends, fiancée, soulmate or anyone. A solo traveller can also be comfortable.
At The Flycatcher Resort we have 6 virgin rooms:
Rooms at a glance:
• View Attic 4 Bed Room in Second Floor: - Double bed at ground and double bed at bank (accommodates 4 Adults): 2500/- per Night (room only) – 1 Room
• View 4 Bed Room in First Floor: - 2 Double bed (accommodates 4 Adults): 1900/- per Night (room only) – 3 Rooms
• Non View 3 Bed Room in First Floor: - 1 Double bed, 1 Single Bed (accommodates 3 Adults): 1300/- per Night (room only) – 2 Rooms
Food: All Meals – 600/- per person per day (Lunch, Snacks, Dinner, Morning Tea, Breakfast)
Most affordable and best stay in Kolakham Hotels. Amazing view of Kanchanjungha from our Resort
FatBastard reviewed v3.4 on Aug 22, 2014
I'm surprise this ancient software is still around.
Most programs don't last as long.
olivergiving reviewed v3.2 on Sep 25, 2013
isobuster rocks
DrTeeth reviewed v3.2 Build 3.1.9.2 Beta on Apr 21, 2013
I have only had to use this 'in anger' once and it salvaged all my data. The developer is responsive, knowledgeable and polite. Licence well worth the money.
Philidor reviewed v2.9 Beta on Feb 18, 2012
I use the free functionality to recover files from deteriorated CDs. Best I've tried.

But there is a learning curve. Use the blue option to recover your files as they were rather than in other formats (Iso, etc). Be careful that the level (there are Sessions) includes all your files. If you can avoid having it try to recover files written on bad (as opposed to damaged) sectors, do so. You'll save a lot of time. Check the files recovered; there may be parts incompletely copied. Another try might help.

The result is worth the attention.
Otto_technica reviewed v2.9 Beta on Feb 12, 2012
I used to love ISOBuster, but now that they are installing crapware ("ISOBuster Toolbar") this package is being added to my ALP (Avoid Like the Plague) list.
I don't mind someone trying to make a buck on an excellent product, I just prefer people to do it honestly. At least make the option to install crapware deselcted by default.
cybergonzo reviewed v2.4.0.1 on Dec 18, 2008
Excellent soft !

Sweet and powerfull !

The toolbar can be unchecked during install and the new version's toolbar doesn't change the homepage anymore (it was a bug in fact, see change notes)

This software CAN and DID recover my corrupted Video ! I'm so glad I recovered our daughter's birth.
alexkirck reviewed v2.4.0.1 on Nov 6, 2008
Stay away! This ISO Busturd overwrites your Internet settings, adds toolbar add it's logo to start page without even informing you!
sps reviewed v2.4.0.1 on Sep 2, 2008
Impressive!
DaveBG reviewed v2.4.0.1 on Jun 1, 2008
Seems awesome app!