File Details

File Size
4.8 MB
License
Freeware
Operating System
Windows 7/8/2000/Vista/XP
Date Added
May 15, 2013
Total Downloads
8,070
Publisher
BlueSprig Inc.
Homepage
JetClean
Publisher's Description
JetClean is a lightweight yet powerful system utility. It's capable of eliminating debris that bogs down your PC with unrivaled functionality. It's easy to use and customizable. Automatic Clean & Sweep allows you to schedule cleanings for idle times while Ignore List allows you to keep cookies for specific sites. Additionally, JetClean Rescue Feature automatically backs-up all changes and allows you to undo them.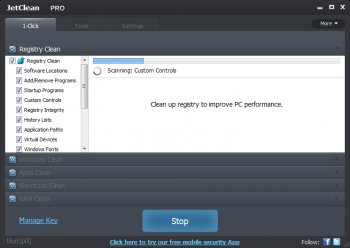 View Full-size
Latest Reviews
hoagieking1 reviewed v1.5.0 on Feb 21, 2018
I need to uninstall this app
impeachobama reviewed v1.5.0 on Nov 30, 2016
One of the very best programs for keeping your computer running at top form. Easy to use and doesn't take up a lot of space on your drive. I would highly (and do to all my friends) recommend this product to everyone.
stolatpl reviewed v1.5.0 on Aug 15, 2016
I like it. It easy & quick.
bwoods reviewed v1.5.0 on Oct 15, 2015
JetClean is fast, free utility cleaner. It often catches leftovers that CCleaner, d SlimCleaner , and ASC 8 miss. Speed-wise it is intermediate. It is slower than SlimCleaner, which on "Auto Clean" is the fastest I've ever used, just a few seconds. But it is much faster than Advanced System Cleaner.

As someone else mentioned, it does have a few quirks on Windows 8.1. It worked fine when I had Vista, and worked well with the Windows 10 preview. On 8.1 it sometimes locks up when cleaning the browsers, specifically Chrome. And also on Windows 8.1, I have to use Windows Task Manager to terminate the process when I am done using JetClean as I can't exit the program, that is terminate it from the screen, without using. But that's no big deal, it only takes a moment to pull up Task Manager and end the process.

As far as someone's comment "full of viruses and crapware." No it's not. However, as it many downloads nowadays, the try to trick you into installing "crapware" along with the product. This is how they make money. You can't complain, they are giving you a free product. Cheap people want something for nothing and that's not how the world works. You just have to have an I.Q. high enough to know that most free downloads are going to try to insert paid products onto your machine. That is how BlueSprig gets money for giving you a free product.

Every time you download the "Crapware" they get a commission from the crapware companies. But all you have to do is be astute enough to press the "decline" button when you are asked, and make sure you read EVERYTHING very carefully. Yes, it's nuisance but you are getting a very fine product for nothing so we really shouldn't be griping. They don't download anything without asking you first, but they do it in a way that tries to get you to overlook the fact you are getting crapware.

Those few seconds declining the crapware is just the price you pay. They will continue to make money on those whose I.Q. is not high enough to read the fine print on the downloads, and that supports their business. I can't say its technically unethical, but will say its a poor business practice for a legitimate company. Many others give you free software without taking advantage of those who have lesser intellect. But whatever, BlueSprig's JetClean does what it is supposed to do, and once they work out the windows 8.1 snags it will be a near perfect product.

So the bottom line...try JetClean, you will like it. Just be forewarned that you need to read all the installation notes very thourghouly and "decline" the installation of the "Crapware."
rsgmarketing reviewed v1.5.0 on Jul 27, 2015
A great lightweight utility program that does a nice job of removing the clutter. However, it would be nice if the company would update the software. I've been running version 1.5 for almost a year without any updates. I've experienced a few bugs running on Windows 8.1. Surely, there are some improvements and enhancements the company could make to their software throughout the year.
aisha1603 reviewed v1.5.0 on Jan 17, 2015
Great fast and easy
Arch reviewed v1.5.0 on Jan 4, 2015
Good program, runs smoothly, nice and clean.
nicolmed reviewed v1.5.0 on Dec 26, 2014
Good.
pcjoedgmail.com reviewed v1.5.0 on Sep 17, 2014
One of the best all-in-one utilities on the market, and I'm comparing it with $40 - $60 software. It's free version is very good, but thee pro version is amazing. JetClean has so many features to clean, fix and boost your computer, it stands by itself in many ways.
impeachobamanow reviewed v1.5.0 on Oct 23, 2013
I never have to worry about my computer slowing down. When I found JetClean, JetBoost I had been looking for a long time for something to do just what they do and had not found anything to match. It doesn't take up a lot of working space to have it running while I've got half a dozen other programs working at the same time. Love It, Love It, Love It.