File Details

File Size
3.6 MB
License
Shareware, $39.95
Operating System
Windows 2000/Server 2003/Vista/XP
Date Added
December 17, 2010
Total Downloads
16,108
Publisher
Jetico, Inc.
Homepage
Jetico Personal Firewall
Publisher's Description
Jetico Personal Firewall protects your computer from unwanted hacker's attacks from outside as well as from malicious programs "living" secretly inside your computer's memory and hard drive. Three levels of protection are included: low-level network packets filtering, application-level network events filtering and filtering of user-level process activity. Jetico Personal Firewall checks every packet that comes in or out of your computer. Using configuration sets for Security Policy you define how your computer is connected to the local network and the whole Internet. Your computer may be completely hidden from any unfriendly attempts to access your hard drive while you are able to access any web sites you want and you decide on which applications are allowed to access Internet and which are not. With Jetico Personal Firewall you feel secure, safe and protected while enjoying all Internet activities.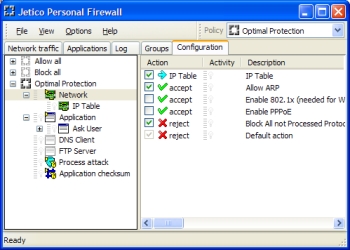 View Full-size
Latest Reviews
wat0114 reviewed v2.1.0.6 on Nov 3, 2009
Now have this latest version installed in a XP SP3 vm, as well as Vista SP2 real system and it's running like a charm in both cases :thumb: Finally the issues I'd had with ARP SPI filtering and vm installation are resolved.
..::][Ben][::.. reviewed v2.1.0.6 on Oct 21, 2009
Great firewall but if you dont know anything about networking you should not comment about this one, its nothing for noobs!
Bart Welson reviewed v2.1.0.6 on Oct 21, 2009
I tried this firewall, but I also count find my application rules anywhere,
perhaps they were scattered around the different places in the config ?
ghammer reviewed v2.1.0.6 on Oct 21, 2009
Seems to be a number of incompetent posters on this app.
It works well and is very configurable.

If you don't know much about your computer, stick to McAfee.
YoungOldies reviewed v2.1.0.6 on Oct 21, 2009
For a paid firewall, this one is extremely crap.
Rules, and especially finding them is close to impossible.

God, I miss the good old Kerio 2.1.5
wat0114 reviewed v2.1.0.2 Beta on Mar 24, 2009
JCookes, either you didn't try it or you didn't figure out how to use it.

Jetico 2 is still a solid packet/application filtering firewall with advanced process controll capabilities. It's also very light on resources. One problem I've had is with the addition of ARP stateful packet filtering in that if enabled, my Internet access gets blocked. It could also use a few improvements, notably the option to sort all columns would be a bonus, otherwise it's one of the more advanced software firewalls available in its price range.
JCookes reviewed v2.1.0.1 Beta on Jan 30, 2009
A paying firewall that cannot even restrict ports or destination addresses ?

LOL !!!

It can do no better than BLOCK ALL or ALLOW ALL.

Well, even Microsoft's firewall can do better than that !
dhry reviewed v2.0.2.7 on Oct 4, 2008
Same reason they call it "personal lubricant" but you're not allowed to shoplift it, I guess?

1 star for not being free and being a whole lot crappier than Comodo.
catchpole reviewed v2.0.2.7 on Oct 4, 2008
why they call it "Personal Firewall" if you have to pay for it?
Monyet reviewed v2.0.1.4 on Feb 1, 2008
Best Firewall I've ever seen! Highly recommended.