File Details

File Size
1.0 MB
License
Freeware
Operating System
Windows 7/8/Server 2003/Server 2008/Vista/XP
Date Added
August 24, 2014
Total Downloads
5,527
Publisher
Nikita Leontiev
Homepage
Just Manager
Publisher's Description
Just Manager is a file manager for the Windows operating system. Features include Multi-panel interface, Panel tabs, File operations, File search, Quick search, Multi-rename tool, FTP, and a Customizable interface.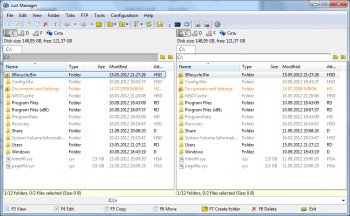 View Full-size
Latest Reviews
donbregman reviewed v0.1 Alpha 41 on Mar 29, 2013
Very pleased with your progress. I use Free Commander and one of the features I miss most in Just Manager is to assign a default folder in both panes at program start.
krkanna reviewed v0.1 Alpha 37 on Mar 1, 2013
Wow, very good utility. Very useful tool this for everyone. But one suggestion: Please add the mobile phone explorer to manage the mobile phone contents.
After adding my suggestion, i will give 5 star to this.
sajjansinghania reviewed v0.1 Alpha 35 on Feb 10, 2013
Down to earth, compact, no junk, best support. And Free.
Vivek Kowshik reviewed v0.1 Alpha 35 on Feb 9, 2013
Existing features work almost perfectly although this is just an alpha. Looks like this piece will never ever have any betas before a final release is made. I would really appreciate if the developer could add two more features to this wonderful tool. It would then be perfect IMO.

One is the ability to accept files that are dragged and dropped from other software windows, such as Winzip. I find I am unable to extract any file by dragging it from the Winzip window into this window.

Secondly I would really have liked a feature to apply a filter that lets me see only files with names that contain a string of characters. This is one feature I miss, which is available in Free Commander.
Qlib reviewed v0.1 Alpha 33 on Jan 29, 2013
I've been using this for a couple of months now and various revisions and all I can really say is that I'm incredibly impressed by this, especially considering it's not even out of alpha.. this is BETAnews after all..
nusushika reviewed v0.1 Alpha 33 on Jan 28, 2013
Light, fast file manager. Looks like Total Commander.

Due to lack of a quick button for Windows Desktop, I give it 4 stars.
DKDude reviewed v0.1 Alpha 23 on Nov 26, 2012
**Problem solved**
Andem reviewed v0.1 Alpha 22 on Nov 19, 2012
It's slim, fast and though basic, has great potential.
oompoop reviewed v0.1 Alpha 22 on Nov 19, 2012
I will try it, because it still fits on a disk (800kb), comparing with my absolut favorit Total Commander (3,5Mb), registered since years ...
o.k., let's have a look ...
UPieper reviewed v0.1 Alpha 22 on Nov 19, 2012
@: Heilnazar: Is your last name McCarthy or what?