File Details

File Size
3.2 MB
License
Freeware
Operating System
Windows 7/2000/Server 2003/Vista/XP
Date Added
December 3, 2019
Total Downloads
2,636
Publisher
Crystal Rich, Ltd.
Homepage
LockHunter
Publisher's Description
LockHunter is a free tool to delete files blocked by something you do not know. LockHunter is useful for fighting against malware, and other programs that are blocking files without a reason. Unlike other similar tools it deletes files into the recycle bin so you may restore them if deleted by mistake.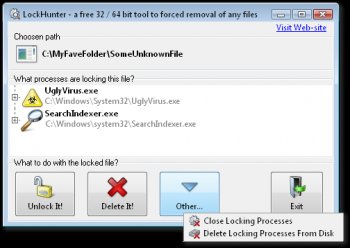 View Full-size
Latest Reviews
cyberguy reviewed v3.2.3 on Jul 20, 2017
@some guy : Not sure you understand what this utility is supposed to do. It runs in Windows not Linux.

Giving a rating of 3. Higher would have been given for something that is actively being maintained and developed/
some guy reviewed v3.1.1 on Nov 21, 2013
while under windows this program does what it says and worked. very well easy to use. Ounce booted into Linux I was able to open that hidden password protected folder with ease
hap8192739 reviewed v1.0 Beta 3 on Jul 2, 2009
Ahhh,a 64bit unlocker utility finally!
Hope it works. A 3 for now
Someone reviewed v on Mar 19, 2023
Pros:
Cons:
Bottom Line:
Someone reviewed v on Jul 5, 2022
Pros: 555
Cons: 555
Bottom Line: 555
cyberguy reviewed v3.2.3 on Jul 20, 2017
Pros: Allows unlocking/deleting of files in use by other processes.
There are a few apps for this, but not many
Cons: Prev update was Lockunter 3.2 way back in 2013??!!
Does not seem to be very actively maintained.
Bottom Line: @some guy : Not sure you understand what this utility is supposed to do. It runs in Windows not Linux.

Giving a rating of 3. Higher would have been given for something that is actively being maintained and developed/
some guy reviewed v3.1.1 on Nov 21, 2013
while under windows this program does what it says and worked. very well easy to use. Ounce booted into Linux I was able to open that hidden password protected folder with ease
hap8192739 reviewed v1.0 Beta 3 on Jul 2, 2009
Ahhh,a 64bit unlocker utility finally!
Hope it works. A 3 for now