File Details

File Size
20.2 MB
License
Freeware
Operating System
Windows XP
Date Added
June 13, 2005
Total Downloads
517,900
Publisher
Mr. Windows X
Publisher's Description
Longhorn Transformation Pack will transform your Windows XP (including XP2) into the upcoming Longhorn (the new Windows edition from Microsoft).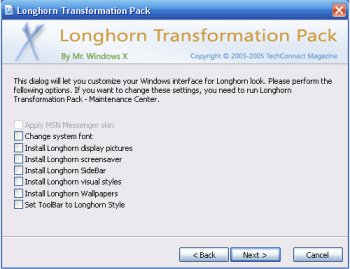 View Full-size
Latest Reviews
g_sharar reviewed v10.5 on Apr 21, 2006
While using this transformation pack I have yet to come across even one problem. The problem most people seemedto be having was reomving the sidebar as this caused an error message to turn up, well it didn't happen for me! Overall it's brilliant!
imanino reviewed v10.5 on Dec 25, 2005
Sorry. Too much memory eaten up the the desktop sidebar which incidentally, doesn't always clean up memory well when it exits. The glass transparency program which seems to have been borrowed from another software firm is not well intergrated with the package and can create some real problems for some graphics configurations in Nvidia. We won't even discuss the uninstallation routine, since I deleted this version and a prior one and neither have completely left the relevant machines. Ghost in the machine only pleases me when connected with the Police. The icons and stuff are nice, but the costs was a ton of time, memory, reboots, and register cleans. This is partly my own fault, should've just have waited for Vista. Tell the great god Bill I have repented of my sins and I will download no more whack substitutes.
Crypton reviewed v10.5 on Jul 9, 2005
Been using 10.5 since it was released and overall the pack is great. There are a couple issues I have noticed which is occuring on several machines here at home. Exiting the side bar an error pops up, as if the sidebar crashes on exit. Another problem is irregular behavior and slowdowns when browsing the web in Internet Explorer. Uninstalling the pack fixes the problem. Along with the slowdown, as someone else pointed out the sidebar uses a ton of memory. I know it is going to use a bit, but 200MB+ is a bit much. These are standard installs, nothing else added, no pictures in the slideshow except default XP pics ect..

Systems having the problems are all Windows XP Pro with Slipstream SP2 and all updates except for Media Player 10. Anyways, hope to see future versions, keep up the good work!
XENSIGMA reviewed v10.5 on Jun 24, 2005
The sidebar is nice but is eating a huge amount of memory(140-216Mb). Maybe because of that is having problems.
theheff reviewed v10.5 on Jun 15, 2005
I'm not a huge fan of the side bar, in fact I'm not using it (it's seperate and is uninstallable). Overall, a very nice set of themes and visual packages. Installation was fine on my XP Pro Corp SP2 build 2600, just take your time. Hope to see more soon!
Which means then it is not loading every thing it needs. Also there sounds like they need to fix the exit problems.

How ever you should Reply to the publisher with The version of XP SP1 sp2 with or without all the updates. Also amount of ram etc.,

It's easier to fix when you post all that information.
Jensen_Tidus reviewed v10.5 on Jun 14, 2005
I have a sidebar error when i openned the sidebar

It says something like this
An Error Has occurred in the script on this page.
Line: 1
Char: 48
Error: Invalid character
Code: 0
URL: file://C:\WINDOWS\SideBar\sidebar\index.html

Wonder if anyone be kind to help me with is problem ... thax
Binary Fission reviewed v10.5 on Jun 13, 2005
I tried this in a virtual machine. I don't know how true to the real Longhorn this is but it has some interesting things. Most of it is just changes to the explorer shell and added appearance options and wallpaper, etc. The sidebar is ok but hardly adds anything groundbreaking. The best stuff is probably just the explorer shell changes.
The sidebar crashes when I exit out of it.
Oh, and the documentation and instructions in the setup are terrible. Most of the prompts are in very poorly worded English sentences.
Betachecker reviewed v10.5 on Jun 13, 2005
Why would someone "transform" XP into a LH ??
wendysystems reviewed v10.5 on Jun 13, 2005
I think the programmer(Mr.X) is very sharp.I would hire him.Hey Mr.X, please make more of your cool stuff.Why not try to make a merge of linspire and windows?It would be really cool! How about playing with the Alice the talking bot software?Thats what we need!A AI Linspire Windows merge package with a bot as the administrator!Don't forget to include a neural net.Thanks for the fun free software!