File Details

File Size
82.1 MB
License
Open Source
Operating System
Windows (All)
Date Added
August 31, 2022
Total Downloads
105,697
Publisher
MAME team
Homepage
MAME
Publisher's Description
MAME stands for Multiple Arcade Machine Emulator. When used in conjunction with images of the original arcade game's ROM and disk data, MAME attempts to reproduce that game as faithfully as possible on a more modern general-purpose computer. MAME can currently emulate several thousand different classic arcade video games from the late 1970s through the modern era.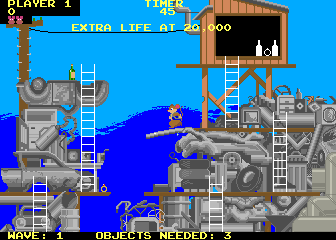 View Full-size
Latest Reviews
Someone reviewed v0.239 on Jan 8, 2022
the best in old school arcade
some guy reviewed v0.190 on Sep 27, 2017
the best in old school arcade
some guy reviewed v0.167 on Nov 8, 2015
great stuff love them 80's roms
some guy reviewed v0.159 on Feb 27, 2015
love running them 80s classic arcades games, takes me back in time thanks guys for your hard work.
elkal000 reviewed v0.155 on Oct 17, 2014
Kudos to MAME developers, it is one of best ideas ever.
As soon I discovered it many years ago, the concept of "abandonware games" (nice games still fun to play but impossible to support as old hardware pass away, because they are no longer commercially interesting for short-sighted IP owners) was forever banished from my life.
5 out of 5, just because I cannot give 6.
paulperry reviewed v0.149 on Aug 24, 2013
5 out of 5!
some guy reviewed v0.146 on May 21, 2012
lowe and behold my vote got it to a 4.4 :) great stuff!
Das mod reviewed v0.146 on May 21, 2012
Lovin' it !!!
some guy reviewed v0.144 on Nov 14, 2011
holy krap Batman my post below is 2 years old
thegreatluis14 reviewed v0.139 on Jun 13, 2011
mame is the best!! it works perfect with joysticks you can buy and it makes it even funner!! those old games and classic ones are the best!! i have mine hooked up to an arcade cabinet from recroommasters.com !