File Details

File Size
0.6 MB
License
Open Source
Operating System
Windows 2000/9x/Server 2003/XP
Date Added
April 18, 2005
Total Downloads
43,092
Publisher
Glen Sawyer
Homepage
MP3Gain
Publisher's Description
MP3Gain analyzes and adjusts mp3 files so that they have the same volume. It does not just do peak normalization, as many normalizers do. Instead, it does some statistical analysis to determine how loud the file actually sounds to the human ear. Also, the changes it makes are completely lossless. There is no quality lost in the change because the program adjusts the mp3 file directly, without decoding and re-encoding.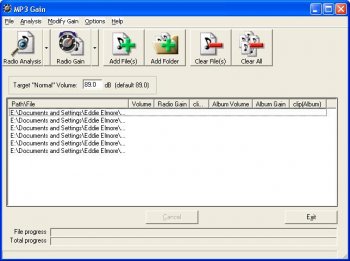 View Full-size
Latest Reviews
bogbasic reviewed v1.3.4 Beta on Feb 14, 2011
Seems like it does a very good job that will help to save my hearing when using the in-ear phones. It didn't work on all the files I had in my batch, but if I put the ones it failed on through MP3normalizer (which doesn't seem to do much on its own), MP3Gain can then normalise them after all. Quality of the sound seems fine so I think that here is a program that will stop me going mutton jeff (deaf for non-c***neys)!
Helgji reviewed v1.3.4 Beta on Dec 7, 2006
If you use a real speaker system you can hear the sound quality got worse with this program. Not good.
einstein56 reviewed v1.3.4 Beta on Oct 28, 2005
it seems not lossless
ye110mann reviewed v1.3.4 Beta on Oct 28, 2005
Does what it's supposed to do. It losslessly normalizes the volume of all your mp3s. No more having to adjust the volume for each song.
It does lower the volume of most songs significantly though (for a reason) so you'll have to set your volume higher than usual.
I use foobar2000 to sutomatically reduce the volume of non-MP3gained songs by 7.5db so all songs whether MP3gained or not sound roughly the same.
benZin reviewed v1.3.4 Beta on Sep 24, 2005
I love this prog. Perfect results.
kadavrul reviewed v1.3.4 Beta on Jul 23, 2005
You will not find a better program than MP3Gain! Very easy to use with the best results! The new version can be found here: http://prdownloads.sourc...-win-1_2_5.exe?download
fraksion reviewed v1.3.4 Beta on May 20, 2005
A classic for lossless normalization. No audiophile without this!
Nikkie reviewed v1.3.4 Beta on May 9, 2005
Perfect !!

I just ran into this and really needed this since yesterday . I noticed a track was really loud and another was far too low .

This fixed it with a few clicks ... it didnt even make me reload my winamp playlists .. it recognized the tracks without a reload ... great program
Canuckistani reviewed v1.3.4 Beta on Apr 18, 2005
Oooh, an update! Anyone who uses headphones, wants to listen to music at night when everyone else is sleeping or simply hate having one album quiet and the next one blasting like a 747 taking off are going to just love this thing. It's one of those little "must have".
wagner reatto reviewed v1.3.2 Beta on Nov 4, 2004
very easy interface!