File Details

File Size
1.8 MB
License
Freeware
Operating System
Windows 2000/9x/Server 2003/XP
Date Added
October 22, 2003
Total Downloads
96,339
Publisher
Microsoft Corp.
Homepage
MSN for Windows
Publisher's Description
MSN is the all-in-one software from Microsoft that makes it easy to get more from the Web. It works with your existing Internet connection, allowing you to browse the web, e-mail and instant message friends, chat, listen to music and much more. Easily sign-in and access to your favorite MSN features and an integrated media player offers a great new way to find and play music and video. It supports up to 9 users, so everyone in your family has their own e-mail, buddies, favorite sites, etc. Innovative new automatic update mechanism delivers updates (service improvements and new features) to you.
Note: You must be an MSN subscriber to use this software.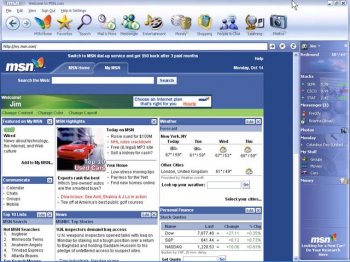 View Full-size
Latest Reviews
mwat1 reviewed v9.00.0010.1601 Beta on Dec 18, 2010
This is not free, do not download unless you are a subscriber to the software. It is a good browser. Please install with caution
yanike reviewed v9.00.0010.1601 Beta on Nov 23, 2006
MSN 9.5 (Released November 2006)

OK Release :) Messenger is integrated back into the browser and it's still very fast. IE6 users will love the speed it gives. So will IE7 users(which I recommend staying with IE6 because it loads pages correctly and this browser makes it load pages faster than IE7 anyways).
TimothyLevy reviewed v9.00.0010.1601 Beta on Jan 31, 2004
AOL SUCKS!!!!! MSN RULES.
rejected reviewed v9.0 Beta Build 1802 on Sep 29, 2003
I like how many and encarta are built in, im beta testing it for microsoft...i find it to be a bit slow sometimes but all in all a decent subscription program.
softssa reviewed v9.0 Beta Build 1802 on Sep 29, 2003
I am able to use Encarta.com FULLY (because I've bought the program) but I am still not a MSN subscriber?
AquaDex reviewed v9.0 Beta Build 1802 on Sep 29, 2003
Im only giving this thing a 2 because it sure is great, but takes way too much RAM, over 70MB on my machine (MSN 9 + MSN Messenger (because you can't close it with MSN 9 open) + msniasvc.exe (MSN's Internet Access System Service)), which is even more than AOL 9 on my machine (~60MB)

Ugh...
devious reviewed v8.5 Beta Build 1707 on May 10, 2003
Very fine program, Like most others have said this is for paid subscribers, just like the aol beta were for AOL subscribers, the msn service was never free. The Program you all are used to using is the MSN Browser that came with XP. I give this Program 5 stars. I am an MSN subscriber and appreciate this latest beta very much.
mm_omega2 reviewed v8.5 Beta Build 1707 on May 9, 2003
I am giving this a 5 because out of all the cheap-o whining people out there giving it a 1. Not one of them had a real legit excuse why this was givin a 1 star other than , I guess they must be poor and they want everything for free. Now why don't you people explain problems within the program itself if there are any and quit acting like b!t(he$ and crying about the money.
MSNUser2003 reviewed v8.5 Beta Build 1707 on May 9, 2003
I wish that some of you guys would just stop giving MSN 1 star just because you have to be a payed member. Duh you have to be a paid member. MSN started charging last october for broadband users because it wasn't fair that Cable Internet was free but Dial-Up had to pay so now everyone has to pay. It's only 9.95 a month. And anyway, this is not for you to rate if it should charge or not, this is for you to test MSN to see whats good and whats bad about the program, not the cost of it.
HarleyDude reviewed v8.5 Beta Build 1707 on May 8, 2003
MSN was free in XP .. Why pay for something thats no better/ full of ADDS and has features that are readly avalible in Freeware ???