File Details

File Size
0.9 MB
License
Freeware
Operating System
Windows 2000/9x/Server 2003/XP
Date Added
October 12, 2007
Total Downloads
10,825
Publisher
Igor Green
Homepage
Magic Mail Monitor
Publisher's Description
Magic Mail Monitor is a POP3 mail monitor with multiple accounts support. It sits silently in your system tray and notifies you about new messages in one of your mailboxes. Then you can preview messages and delete unwanted mail in order to avoid spam and viruses.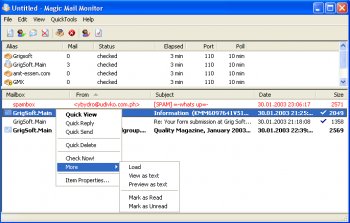 View Full-size
Latest Reviews
guti reviewed v2.94 Beta 17 on Oct 2, 2007
Used to be good, but nowadays I prefer nPOPUK.
horsecharles reviewed v2.94 Beta 15 on Apr 23, 2007
status:
Last version: 2.94b16, April 21, 2007: http://downloads.sourcef...188492&big_mirror=0

Recent changes:

Optional settings storage in ini file - create magic.ini file to activate it;
Protected messages could not be deleted;
New filter actions: protect and friend-like;
Optional protection of messages from friends;
Message viewer can be selected;
"Jump to end" option for header view;

Improvements
Most important changes, made since last official version 2.9:

Filters!
Friends list
read/unread logic
Multilanguage interface
Ability to download just first N KB of message for preview
Ability to display raw headers in Mail properties
Support for KOI8 and UTF8 encodings

Other languages
MMM supports multiple language interface. Check out available dictionaries here. Or create your own translation!
NotSoSkilledUser reviewed v2.94 Beta 15 on Jan 7, 2007
I've been using M.M.M. with FreePOPS (http://www.freepops.org/) for many years to monitor all my pop3, gmail and hotmail accounts. M.M.M. beta 14 and 15 keep crashing while doing that, so I'll stick with beta 13 which works like a breeze!
robin_v reviewed v2.94 Beta 15 on Jan 7, 2007
This version works well now but I don't notice any difference between it and beta 13. The filter function works fine now.
minasinahanmetehe reviewed v2.94 Beta 15 on Jan 7, 2007
I have used this in several machines over the last 4 or so years. Works fine, easy to set up and easy to use.
oomingmak reviewed v2.94 Beta 15 on Jan 6, 2007
Why does every single developer who makes a mail monitor program insist on putting an icon in your system tray when you *DON'T* have any new mail?

For years now I've been looking for a mail notifcation program that behaves in the same way as Outlook (i.e. no email = NO icon, new email = display an icon) so that I can be notified of mail without having to leave my email client open. But I have never found such a program (desite trying out dozens of mail notifcation programs over the years).

I know that most software writers have a "tray icon fetish" and will find the lamest excuses to put an icon in the tray (just to show off that they've figured out the necessary hooks to implement this), but system tray abuse is getting quite ridiculous now.

Plus, more and more mail "monitor" programs are evolving into poor email clients. There is a total lack of development of options / customisation for the notification itself (thereby ignoring the whole point of the program) and instead they add more and more email client type features; like full HTML message reading, editing and reply etc.

I don't want to read, edit or reply to my email from the notifier (that's what I have an email client for) I just want it to nofity me (and give me a LOT of choice about how the notifcation is done - i.e. user chosen tray icon, whether to pop up a 'toast', user chosen sounds etc.).

On the upside, this program has paid some attention to the interface and it looks a whole lot better than many other programs I've seen on SourceForge.
Tearom reviewed v2.94 Beta 14 on Dec 27, 2006
Not a bad program, but with the rare updates and current bugs, I would recommend you try PopPeeper ( http://fileforum.betanew...POP_Peeper/1040166580/1 ). It is frequently updates, light, and has all features you may need for a program of this type.
robin_v reviewed v2.94 Beta 13 on Apr 11, 2006
I have been using Magic for a while now and it suits my needs perfectly. I used to have Mailwasher Pro but that got to be too "bulkey" after a while. Most of these spammers change e-mail address every day anyway so one hardly needs the overhead of checking thousands of blacklisted names which no longer exist. The human mind is still superior to the computer. It's simple and it works. Great program.
daze reviewed v2.94 Beta 11 on May 26, 2005
this is the program i use for checking my email. however, there are a few bugs that have yet to be fixed, and the program updates are very, very rare...
adasmus reviewed v2.94 Beta 10 on Jun 15, 2004
Good program