File Details

File Size
1.8 MB
License
Shareware, $39.99
Operating System
Windows (All)
Date Added
October 24, 2019
Total Downloads
35,691
Publisher
Malwarebytes Corp.
Homepage
Malwarebytes
Other Versions
Publisher's Description
Malwarebytes combines powerful new technologies built to seek out, destroy, and prevent malware infections.
Malwarebytes is an easy-to-use anti-malware application available in both a Free and Premium version. The Free version is well-known for its detection and removal capabilities, and the Premium version uses advanced protection technologies to proactively stop malware infections. Additionally, Malwarebytes offers a host of extra utilities as well as an approachable forum community to help you combat any piece of malware that exists in the wild.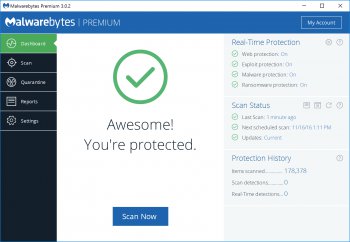 View Full-size
Latest Reviews
Zootopia3001 reviewed v3.1.1.1722 on May 4, 2017
This is a nice improvement, much less drag on the overall system as compared to last version. I typically stick with older systems until they die, so I can tell when a program is being a drag. Might it miss some malware, probably not, as some are now suggesting. And even so that's why it's best to also use a third party firewall as well as maybe something like WinPatrol, and other security enhancements. If you aren't networking your PC then turn off NetBIOS over TCP/IP, and enable DEP for all programs, malware blocking hosts file, etc. Don't rely on just one piece of software for security, nothing is foolproof.

BTW, this review is for the last 3.1.x final version, not this current beta one.
I own two lifetime licenses. Mbam 3 freezes my two computers on shutdown when running Hostsman 4.7.105. Filed several reports with Malwarebytes forum but problem was never fixed. Uninstalled Mbam 3 and no more problems.
Music4Ever reviewed v3.1.0.1716 on May 2, 2017
Sadly I have to agree with the comments below, Mbam was the best for some time, its took several updates to even get a working program. Tests have shown Mbam to be far behind other anti-malware products such as Zemana.

Seems to some degree they have lost the plot, sad to say but true.I have lifetime licenses for Mbam so still run it from time to time but rely on Zemana & Hitmanpro Alert..
some guy reviewed v3.0.6.1469 CU4 1.0.1096 on Mar 27, 2017
will agree with Cyberdoc It's become to heavy and bloated
Šbb Kbb reviewed v3.0.4.1269 on Dec 5, 2016
Well,it was awesome wail it lasted but the global moronization caught it up.
Let there bee white and dumb!!! sad,really sad
CyberDoc999 reviewed v3.0.4.1269 on Dec 5, 2016
the problem is now it is bloated and slow
Music4Ever reviewed v3.0.3.1245 on Nov 25, 2016
Looking good - Now combines anti-malware, exploit protection & anti-ransom products in one. I'm having a few problems with the beta remembering my settings on re-boot but happy issues will be sorted on final. Scans far faster than original Malwarebytes along with many new features.

It's now being touted as a 'Next-Generation Antivirus Replacement' - So make of it what you will :-)
Music4Ever reviewed v2.1.0.1009 Beta on Mar 4, 2015
I prefer the new plainer look & none garish colours, much nicer, still no bloat & IMO the best anti-malware program around - A must have.
reddy.shyam reviewed v2.1.0.1009 Beta on Mar 3, 2015
Am loving 2.1 UI changes. Very clean I must say. Need not comment on functionality. :)
Music4Ever reviewed v2.0.2.1007 Beta on Apr 23, 2014
Interface much improved & more bug fixes, Mbam have managed to still keep the program none bloated & they listen to their customers on their forum - Best anti-malware there is !