Publisher's Description
Stop viruses and keep your PC safe with McAfee VirusScan software. When you're surfing the Internet, there's more to worry about than just viruses. VirusScan software destroys threats at all entry points to your PC including email, the Internet, and even synchronization with your PDA. VirusScan includes extra firewall protection to keep your computer safe from Internet-based threats.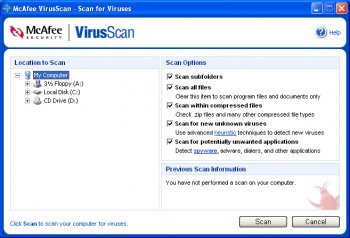 View Full-size
Latest Reviews
CyberDoc999 reviewed v11 on Nov 28, 2008
Worst of the worst!
read the votes 2.2 and falling fast.
Ex-Brit reviewed v11 on Nov 25, 2008
Not sure why VirusScan 11 is suddenly appearing here as it is basically obsolete.
FailedCRC reviewed v11 on Nov 25, 2008
Terrible product, detection rates are poor, especially for rootkits and scam-type fake security software.

The corporate version is equally troublesome and will often fail to unload correctly on logoff.
ecvogel reviewed v11 on Nov 24, 2008
I think it is really good. I tried NIS 2009 and think it is the best. No bloat, and I hear it is top rated and the pulse updates. But I am sticking with McAfee's 2nd highest product because it works, does not seem to be bloated. The reason I do not move to NIS? Comcast foots the McAfee bill. www.comcast.net/security. I would still suggest McAfee to other people too.
hellrazor238 reviewed v10.5 Build 10500 Beta on Jun 27, 2006
fools who hate macafee are stupid this truly is the best antivirus out there
SamppaX reviewed v10.5 Build 10500 Beta on Jan 4, 2006
First of all "i hate Security center" too, but someones like it. So mcafee should use it as optional component.

And btw it isn't as buggy as you think. No bugs with my computer.

And Mcafee is quite good still. I know that almost all choose like NOD32 or similar. You know why nod32 gathered so much popularity? Because it isn't resource hog. But mcafee has taken some good example too and mcafee isn't half bad anymore. (I give mcafee plus for that)

So my opinion with nod32 and mcafee is " A DRAW "
iNsuRRecTiON reviewed v2006 on Aug 29, 2005
Hey,

for over 2 or 3 years with every new Version of McAfee VirusScan, you have to install this damn McAfee SecurityCenter, which is bloated and advertise other McAfee apps, etc.
I hate this and McAfee don't offer you an option to only install VirusScan, without this s*** SecurityCenter!!

The only last McAfee VirusScan without the SecurityCenter is Version 7 (maybe 8..) and this one was good!

So the McAfee AV Engine is very good and performances well (especially the new 5000 or 5.0.0 beta 3 Engine..), but the necessary to install that f*** McAfee SecurityCenter GUI is lame and so, I don't use it anymore.

Only if you have in future the ability/possibility to install only McAfee VirusScan WITHOUT this SecurityCenter, then I will give McAfee a new chance and try..

thx and best regards,

iNsuRRecTiON
Zankur reviewed v2006 on Aug 21, 2005
Yippeee! Mcafee has beaten everyone to the mkt with a prompt release to counter new-viruses,spyware.
The software is stable,not a resource-hog,and very easy to use.
And for people crying bloatware&related stuff,plz get a life and visit pcmag.com for mcafee2006 reviews which has been rated editor's pick.
Overall it's the best available anti-virus**today**,so go ahead and don't be shy!
AlexBR1974 reviewed v2006 on Aug 20, 2005
Buggy, buggy, buggy!!!
Go ahead, install it and tell me if I´m wrong...
If you are really serious about secutiry, you will use NOD ou Bitdefender.
Stay away from Symantec/McAfee!
OTACORB reviewed v2006 on Aug 20, 2005
Run's faster than the previous version. I also like the Anti-Spyware, Firewall program that have also been updated. I'd recommend the Suite over just bying the Anti-Virus program by itself. I have found the new version found stuff that was on my computer that Norton's had missed. Norton's totally slows my computer down, but McAfee's does not.