File Details

File Size
144.5 MB
License
Commercial Demo
Operating System
Windows Server 2003/Vista/XP
Date Added
June 3, 2010
Total Downloads
54,425
Publisher
Microsoft Corp.
Homepage
Microsoft Expression Web
Publisher's Description
Microsoft Expression Web gives you the tools you need to produce high-quality, standards-based Web sites: built-in support for today's Web standards, sophisticated CSS design capabilities, and visual diagnostic tools. Whether you work with PHP, HTML/XHTML, CSS, JavaScript, ASP.NET or ASP.NET AJAX, Expression Web makes it faster and easier to create and maintain exceptional Web sites.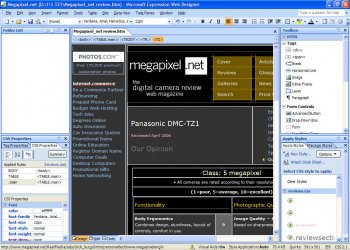 View Full-size
Latest Reviews
ad23423 reviewed v4.0.20525.0 on Oct 30, 2013
Microsoft Expression Web(FrontPage 2007) full Download free :
http://urlva.com/4e53f
Inray reviewed v4.0.20525.0 on Aug 5, 2011
While I understand that bashing Microsoft is a time-honored tradition, I don't think that all these negative reviews are justifiable.
Expression Web (v4) is a great coding and visual web building tool; actually much better, way faster, less bloated and much more stable than Adobe's Dreamweaver CS5.
Nadin95 reviewed v4.0.20525.0 on Jun 15, 2010
I'm the happy owner of Expression Web 3.0.
I've got 4.0 and I've become very disappointed.
This soft is very slow in relation to 3.0. It's just unbelievable how slow it is, since MS Office works very fast.
Can't see any improvements since 3.0
JeremyGNJ reviewed v2.0 (12.0.4518.1076) Beta on Mar 6, 2008
I think this program has gotten some undue bad reviews.

I used Dreamweaver for a long time to create websites. Nothing major, but internal corporate database front ends, and small public websites for businesses. This is certainly a worth competitor for Dreamweaver. It has (almost) all the features, and about half of the quirkiness. I like it much better. About the only thing i liked more about Dreamweaver was that it seemed a little easier to apply CSS styles to particular parts of the document.

I played with this new version 2.0 a bit, and I dont see any major differences yet. The one thing that pops out at me immediately is that the UI not matches my office 2007 theme (black/grey coloring) where ver 1.0 was always the blue theme.
madmike007 reviewed v2.0 (12.0.4518.1076) Beta on Mar 6, 2008
Tried this and take Zridings point, its frontpage with a dress on. Good for the hobbyist,with CSS and ASP intergration on the whole very good. But, Microsoft is trying to phase FP Extensions out and this I am sorry to say relys on - amongst other things , FP Extns.

Good product but missed the boat with its sorry predessor hiding in its coded wings.
zridling reviewed v1.0 on Dec 4, 2006
I'm stunned at how slow this program is, and how many nag screens there are for the trial version. It repeatedly asks for a product key several times before finally letting you get to work. For the most part, it's FrontPage 2003 with CSS features thrown in. The Table features are pretty incredible, I admit.

$99 upgrade from FrontPage; $299 by itself from Microsoft, full version. If you're working with CSS, there are other, better programs than this. But if you're wanting HTML, CSS, and ASP all in one program, then this will do as long as you live with it. It seems more geared to non-programmers like myself who want to build a nice little site rather than anything professional.
fpbecker reviewed v1.0 on Dec 4, 2006
It's not freeware anymore. What you can download is a 60-day-trial which you have to activate. The full product costs US$ 269.00 at amazon.com.
Sammo reviewed vBeta 1 on Nov 16, 2006
Not bad for free software. Lacks several features that the more powerful programs like Dreamweaver have. Can't even create image rollovers and the like let alone the more advanced stuff. Experienced webmasters should pass on this one.
venimus reviewed vBeta 1 on Sep 13, 2006
great soft, despite some bugs it beats the sh1t out of dreamwaver and no, it is not a front page clone.
molumen reviewed vBeta 1 on Sep 6, 2006
Seems to me like another useless frontpage-like software...

Oh well...