Other Versions
Publisher's Description
Windows Defender is a security technology that helps protect Windows users from spyware and other potentially unwanted software. Known spyware on your PC can be detected and removed. This helps reduce negative effects caused by spyware including slow PC performance, annoying pop-up ads, unwanted changes to Internet settings, and unauthorized use of your private information. Continuous protection improves Internet browsing safety by guarding over 50 ways spyware can enter your PC.
The worldwide SpyNet community plays a key role in determining which suspicious programs are classified as spyware. Microsoft researchers quickly develop methods to counteract these threats, which are automatically downloaded to your PC, so you stay up-to-date.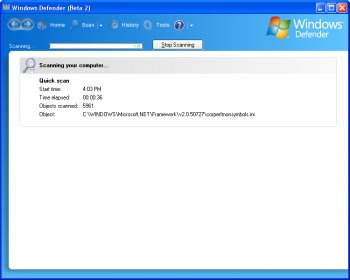 View Full-size
Latest Reviews
sheinaya reviewed v1.1.1593 on Jul 21, 2012
Cool! but try ca anti virus, for me its the best, real time scanner is very light, unlike other anti-virus makes your PC stuck at 5-10secs.
I have a copy, license will expire on 2015,
you can download it here>> ca-anti-virus dot weebly dot com
Mastertech reviewed v1.1.1593 on Jun 25, 2007
Excellent program that works unobtrusively in the background, updates automatically, includes real time protection and is completely free.
caronn reviewed v1.1.1593 on Mar 21, 2007
Very good, and well designed for Windows.
theminhb reviewed v1.1.1593 on Mar 17, 2007
I used Defender early on in XP, never found one thing. Now 1 1/2 months later in Vista, still the same, never finds anything while Webroots Spysweeper is often triggered. I went to edit a photo using Windows Photo Gallery and immediately Spysweeper prompted me of an embedded trojan, Windows Defender, not a peep. I use Defender for the Software Explorer under Tools. Nice feature, I give it a 3 for that.
tom3311 reviewed v1.1.1593 on Mar 16, 2007
Vista already includes Windows Defender, so this new install would only be required for XP or earlier versions of Windows...
Adrian79 reviewed v1.1.1593 on Mar 15, 2007
vista? or only xp
wampamba reviewed v1.1.1593 on Mar 15, 2007
Not me First Blood.I suggest Spyware Terminator.The best i have used in eight years.
Macross74 reviewed v1.1.1593 on Mar 15, 2007
THis is a step in the right direction for MS for their OS, it still has a long way to go to get everything spybot and ad aware get.
But in saying that, spybot does not find all the items ad aware finds, and on a few occasions defender has found a few items neither had.
oivi reviewed v1.1.1593 on Mar 15, 2007
what's up with the talk of "version 7" ? I saw MS used the term on the download page - but in reality it's version 1.1.1593.0
Anyway - Defender never found a thing - ...other programs have.
mjm01010101 reviewed v1.1.1593 on Mar 15, 2007
As an admin, how do I uninstall the previous version programically? (i.e. referring to the MSI) I've tried the /uninstall switch, it doesn't work. Installing the new version doesn't want to uninstall the old version. Any ideas? Other MS software I can use my usual methods on it...

The release notes page isn't updated with this version.

MS is on the ball lately with these "silent" updates.