Publisher's Description
Windows Movie Maker makes home movies amazingly fun. With Movie Maker, you can create, edit, and share your home movies right on your PC. Build your movie with a few simple drag-and-drops. Delete bad shots and include only the best scenes. Add special effects , music and narration. Then share your movie via the Web, e-mail, on your PC, CD or even DVD. You can also save your movie back to the DV tape in your camera to play back on a TV or on the camera itself.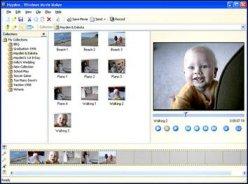 View Full-size
Latest Reviews
horsecharles reviewed v2.6 on Apr 17, 2007
I second Alex Stevens----

BETANEWS NEEDS TO INSERT A WARNING / EXPLANATION!!!!
Alex Stevens reviewed v2.6 on Apr 17, 2007
The article is not clear at all about what this is. It is only for Vista users with old video cards that cannot run Vista's version of Movie Maker. This is basically the XP version of Movie Maker for Vista. It's not an update and is not needed if you have a decent video card.
PhiliCheese reviewed v2.6 on Apr 17, 2007
I don't get it, I thought vista already comes with movie maker? I've used it, it's got some excellent features, and then some very unrefined glitches.

Is this an update to it? because the homepage links to an xp movie maker site.
Latz ! reviewed v2.6 on Apr 17, 2007
This is only for Windows Vista.
Nikkie reviewed v2.0.3312.0 on Oct 12, 2006
I love how it crashes..Best feature!!

This has to be alpha.
bowlby4 reviewed v2.0.3312.0 on Jul 19, 2006
Version 2.1.4026.0 is available. Came out with SP2.
aitch2 reviewed v2.0.3312.0 on Sep 20, 2003
While I found the program easy to use without tuition and editing proved transparent, I was disappointed at the screen result of importing an AVI file created on a MAC. The file plays fine under QT or RP, but the result under VMM whether the AVI or a saved edited MPEG was either fat/short or tall/thin!! And there seems to be no other way of reformatting the screen appearance. Very sad for what could be a very handy little tool.
captainmarvel reviewed v2.0.3312.0 on Jan 30, 2003
The MS page says the page content was updated on January 28, 2003. It doesn't say the file was updated. As far as I can see, this is the same file that was released earlier in the month, not a changed file.
BB88 reviewed v2.0.3312.0 on Jan 30, 2003
I checked the build of my Windows Movie Maker 2 I downloaded when it first released, and the build number is exactly the same. Beware M$ likes to update the DATE of their softwares, without updating the component itself. Though, it's a good program!
eddie reviewed v2.0.3312.0 on Jan 30, 2003
Banquo: This is a new release. Check MS website. Released January 28.