Publisher's Description
Windows Vista Upgrade Advisor is a small application that you can run on your current Windows XP-based computer to find out if it's ready for an upgrade to Windows Vista. When you run the Upgrade Advisor, it will scan your computer and generate an easy-to-understand report of any known system and device compatibility issues, along with recommendations on how you can get your PC ready for Windows Vista. Microsoft plans to add functionality to Upgrade Advisor, such as checking how your software applications will run with Windows Vista. Download the beta version today and check this site in a few months for a new version.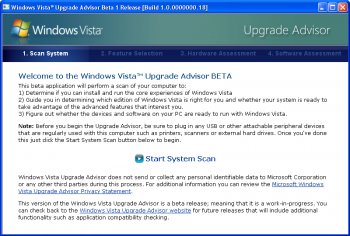 View Full-size
Latest Reviews
photonboy reviewed v1.0.0.918 on Dec 31, 2007
There seems to be some confusion:

Microsoft is releasing new versions because they are adding hardware to the list. It seems people just keep making new products...

However:

Vista has blocked support for EAX. This is a high profile change which has created a lot of waves. Microsoft says my Creative Audigy 2 card will work fine which isn't quite true, it will play degraded sound quality unless you find a software workaround (more info at Creative site). I feel Microsoft has intentionally downplayed this for fear of not selling copies of Vista, but doesn't this sort of defeat the purpose of this program?
godzila reviewed v1.0.0.918 on Dec 21, 2007
-Lord- reviewed v1.0.0.918 on Dec 21, 2007
People still use Zone Alarm???
Hall9000 reviewed v1.0.0.918 on Dec 20, 2007
Works. I still can't believe the list I see for Vista Basic compared to the others. Takes balls to sell that. Anyway it told me nothing new from last time i tried this. Upgrade video card, upgrade audio. I'm surprised it didn't complain about the fact that I have only 1 gb of ram.
mjm01010101 reviewed v1.0.0.918 on Dec 20, 2007
Hilarious that they have revised so many versions of this program. Vista's been out over a year. Ya think Microsoft is concened?
TechNoWeb reviewed v1.0.0.628 on Feb 20, 2007
it works is about all i can say i am running vista on drive d and xp pro on C it looked at my pc and it said i could run vista "all ready knew that" but i wanted to know about the programs and they have not changed it taker zonealarm if you do an upgrade with zonealarm installed disabled but installed it will hose your system and all it said was it might give you some problems yea right i used the vista loophole to install a clean copy of vista anyways i don't upgrade your just moveing all your old problems to a new os.

it needs work so i gave it a 3
The MAZZTer reviewed vBeta 1 Release Build 1.0.0.54 on Sep 6, 2006
Nice, but it wrongly reported my computer could not run Vista. It only scanned my XP drive and concluded my 7gb free was not enough to install Vista, while ignoring the 70gb free drive I actually plan to install the Vista RC on.

[Edit: That winsat aurora thing is nice, heh. They probably intended to use it as a progress thing while it scanned your computer, and later decided to just do scans while the user inputs the data on how they plan to use Windows.]
mjm01010101 reviewed vBeta 1 Release Build 1.0.0.54 on Sep 6, 2006
surprise surprise, it said my 4 year old system, otherwise doing it's job fine for 4 years with little complaint, sucks.
asellus reviewed vBeta 1 Release Build 1.0.0.18 on May 21, 2006
Just ran "winstat.exe aurora" today.

The result is enough to give it 5 stars.
tannman1 reviewed vBeta 1 Release Build 1.0.0.18 on May 19, 2006
Well it looks loke its real funcrion is for marketing and not really a tool for consumers. As far as drivers go according to this my AC97 sound may be screwed as well as bluetooth but by God my webcam will work.....March on MS. Pleasseee