Publisher's Description
Microsoft Winter Fun Pack 2004 will spice up your music, photos and more with amazing holiday visualizations, skins, powertoys and other fun add-ons. Thereâ??s something for the whole family. It includes Stunning Holiday Vizualizations for Windows Media Player 10, Amazing Holiday-Themed Skins for Windows Media Player 10, PowerToys for Windows Media Player 10, and more.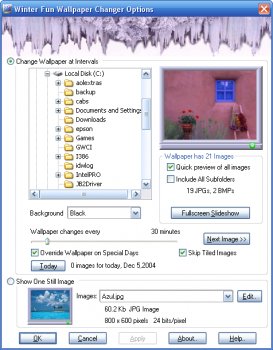 View Full-size
Latest Reviews
wingman580 reviewed v2004 on Sep 2, 2009
This is one of the betterdownloads available on the net! It allows one to select different folders of photos or images to be set as a desktop image changing at selected time intervals.
this is an oldy but GOODY!!!
dodgers12 reviewed v2004 on Jan 17, 2009
the best wallpaper changer ever
K.A.L. reviewed v2004 on Dec 13, 2004
almost Great Pack
great backgroundchanger,could use some more pic
and a better visualization, WhiteCap is ugly.
fanbanlo reviewed v2004 on Dec 4, 2004
hum... 366 folders for each day, but only 6 wallpapers available!?, that just doesn't cut it!

Other than that... there is nothing spectacular to write home about, but it is FREE from MS~ can't ask for too much...

Still, check it out~ :)
leojei reviewed v2004 on Dec 3, 2004
Another good seasonal theme pack from MS. I personally like this one better than the one released last year.

I seriously doubt if other ppl think twice installing this kindda packs before thinking..~ "It takes whole chunk of resource?", "It does nothing?" If you install it you aren't gonna care, right? For certain ppl who think this pack is as useless as other software MS make, then don't use Windows and don't write reviews for this (cuz you can't install on Linux or MacOS).

And yes, it DOES take quite some resource, with 1GB of RAM I aint gonna care!~
FailedCRC reviewed v2004 on Dec 3, 2004
Ah well, at least ms are still making me laugh.
dpickel reviewed v2004 on Dec 3, 2004
Bloated Resource Hog Gives Little or No Benefit!

Like most MS products, this one takes up a whole, whole lot of space to do what it's going to do -- which isn't a whole, whole lot.
hummy reviewed v2003 on Nov 13, 2003
The install experience is a vast improvement over last year's Packs. They have dumped the bloated Install Shield for Wise and it shows. I also am impressed with the cross-promotion of the packs. It's good to see that the headless chicken syndrome is going away.
ghammer reviewed v2003 on Nov 13, 2003
Ha! I love it!!! And who are these dweebs who worry about how big a program is? Like anyone cares when systems come with 256 meg of memory and 40 gig drives. Microsoft haters, you just gotta feel sorry for them and the lame reasons they give others for their foolish positions.
joaoeduardo04 reviewed v2003 on Nov 13, 2003
Its a nice program with this u can get all the others. it has a nice interface and its nice to use and easy too. try