Publisher's Description
This is a special Windows XP Theme from Microsoft designed to look like its new Zune portable media player. This is an official skin for Windows XP that has a dark grey style and orange Start menu.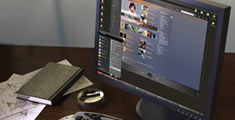 View Full-size
Latest Reviews
virtualsmart reviewed v1.0 on Nov 20, 2011
The fact is you only have a skin.
Why don't check out crystalxp.net and download a complete brickopak.
And change even the color of your folders the way you want.
Or get a complete Windows 7 look.And dockbar as well.

You name it!

For the fact day tried a 3 star.
austin00 reviewed v1.0 on Aug 17, 2011
It has a dark grey style and orange start menu. It's pretty cool.
linjinhuan reviewed v1.0 on May 23, 2011
Hi,The article is very nice. Many webdeveloper get benefit of this. Can you tell me how can I put share my code part here?
Fashion EarringsAntique Jewelry
trents reviewed v1.0 on Dec 2, 2010
Hi,
This is nice and cool to know about this new Microsoft Zune Theme for Windows XP.I like to know it and excited to used it...
JERRYSRANCH reviewed v1.0 on Aug 8, 2010
This will excellent and refreshing for you Desktop! It will bring WOW comments from friends and family because it look very professional. Although you will have to readjust your desktop sounds, and mouse pointers if you use you own; but Zune Theme is worth the changes! Try it!
GLovesMe reviewed v1.0 on Apr 8, 2010
Finally, someone at Microsoft is earning their keep and making cool stuff rather than churning out the same old junk.

This theme is so much nicer than the standard Windows themes that came with XP. Installed without a hitch. Matches my Aquatint Firefox theme perfectly..
patmc7 reviewed v1.0 on Oct 24, 2009
Makes a nice Halloween theme.
liljoe reviewed v1.0 on Nov 1, 2008
This could look better if they used the win vista orb-get it at http://lee-soft.com/viorb/index.html
photonboy reviewed v1.0 on Oct 22, 2007
Update:
This theme is growing on me.

A lot of applications are starting to change their colours with more blacks (Lightroom, ACDSee etc) and that blends nicely with this.

Another plus is the icons tend to stand out nicely against the black. The Task Bar looks great.

Orange. If I could change this to green I would. Not a huge deal though.

There are "conversion" packs and themes requiring programs to install but there are risks with those. There's no risk with this theme. It's as safe as any default theme.

The "Royale" theme is easily Googled if you have XP or XP Pro and is superior to the XP Theme. It's the same theme as MCE 2005 which is much nicer on the eyes than the ugly bright blue XP theme.

Office 2007:
Leave on the default blue. Silver and Black suck.
betabet reviewed v1.0 on Nov 9, 2006
Quite a nice theme once you get rid of the desktop. Have discovered it has upset some of the icons in my menu-bar i.e. they disappeared and it has been quite a job to get them back and keep them back!!!!! My original rating was 4 but that has now decreased to 2.