File Details

File Size
22.1 MB
License
Shareware, $39.95
Operating System
Windows (All)
Date Added
December 23, 2020
Total Downloads
55,286
Publisher
Code:Aero Technologies
Homepage
Movie Label
Publisher's Description
Movie Label helps you organize your movie collection. Add movies by typing title, barcode or scanning your hard drive for Divx etc. All information (including cover art) is automatically downloaded, no typing is required. Any type of video media (DVD, Blu-ray, Divx, etc) can be added. Movie Label even let you keep track of loans and future purchases. Movie Label comes with several different languages and fully supports Unicode.
Movie Label downloads a variety of information about your movies. Among the data downloaded is original title, cover art, trailer, full cast and crew list, genre, plot, release info, certification, trivia, awards, filiming locations and much more. If you add movies from your hard drive, Movie Label will automatically five you information about codec, format, resolution, bitrate, etc. Apart from all this you can add personal information such as rating, price, location and if/when you last watched the movie.
Movie Label is built on a solid database engine that ensures stability and speed no matter the size of the database. A variety of reports can be printed and detailed statistics can be accessed. Movie Label is available in English, German, Dutch, French, Spanish, Danish, Portuguese, Italian, Croatian, Czech, Polish, Norwegian, Turkish, Russian, Latvian, Serbian, Simplified Chinese, Traditional Chinese, Arabic and Swedish.
Movie Label will not only bring a whole new dimension to your movie collection with all the information it provides. It will also save you money since you will never again buy a duplicate or lose a movie on loan.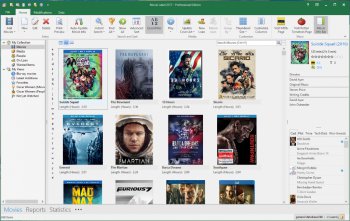 View Full-size
Latest Reviews
harvaparva reviewed v10.1 on Nov 25, 2014
As a Movies Label 2013 then 2014 owner, can confirm it's a great product with inbuilt reporting and a vast array of very useful features.

However I've been using less and less during the past year, because Plex and other media streamer now do the same job and more for free, so why upgrade.
OmAleY reviewed v7.0 on May 28, 2011
Getting better and better. Very fast startup now.

Love the fact the option to scan from hardddrive. Best feature yet.

Keep up the good work guys!!! One thing you could look into is to upgrade the Icons in the program. Then it would be almost perfect.

Just upgraded my 2011 Pro license til 2012.
deda reviewed v6.2.1 on Feb 16, 2011
English isn't my native idiom.

I think there's good programs doing the same thing, even better, and free. An example: EMDB. Just write down the title of the movie and all information about it is got on the IMDb site.
http://www.emdbonlinehelp.tk/
To be honest I am inclined to watch my movies in web sites with content locking scripts like:
http://watchfreeonlinemoviesnow.tv
or
http://watchmoviesfreeonline.tv
I've scanned this web sites with Virus total scanner a firefox plugin (if you dont already have it, get it! Is provided for free...)

And they are free from worms, sure! the surveys are a pain.. but it does take really few seconds most of times plus the links will always be working.
jp_ext reviewed v3.1.2 on Dec 26, 2007
Finally the black theme to match Vista :)
Great product! Keep up the good work.
hellrazor238 reviewed v2.0 RC1 on May 30, 2006
this gut is right hers his qote "not including support for illegally downloaded tv shows... or tv shows in general. it is called MOVIE LABEL ... for movies, genius. " is guy is 100% right
Metshrine reviewed v1.0.5 on Jan 18, 2006
A decent program, although I miss some of the more advanced features I've found in programs like collectorz.com movie collector and dvd profiler. Good job

To the reviewer below, tell me, by adding features for tv shows that are (95% of the time) illegally downloaded, what do they have to gain? I mean, think about it, if someone is going to pirate a tv show or movie, what would make the developer think that they would pay for their software rather than crack it? It would be nice if they added support for movies downloaded or tv shows, but I dont forsee it being a huge market share loss as again, most of the users would pirate the program anyways if they already d/l movies and tv shows in this manner.
wickedfeel reviewed v1.0 on May 30, 2005
I've seen/used codeaero's backend on music label 2005, impressive. If you want to win me & many other media collectors from DVD Profiler (king!), you will have to match & go beyond their already nice feature set. As for the legalities, the facts are:

You can record them (movies & tv shows) on your pc or dvd recorder from cable or satellite for viewing at a later time on your pc. (legal)

You can buy them (movies & tv shows) in the store and rip them to your pc for easy access. (legal)

You can already buy movies from online distributors in digital file form. (legal)

There are tons of free (and legal) movies & shorts on the internet available for download. (legal)

In addition to all of that (which are only some of the possibilities) regardless of what the issues are with downloading/recording TV shows or movies, many people do it & neglecting them by not implementing the features they could use only minimizes the market you can reach. As long as it doesn't break any laws on the end of codeaero (which it wouldnt) why not?

All of this would be great to be able to organize/classify as an entire array of videos I have accumulated over the last 20 years. But for now DVD Profiler does it for me, with a hope for more features someday. Music Label 2005 for CDs. BookCAT for Books.
daze reviewed v1.0 RC1 on May 28, 2005
no need to get into a pissing contest, herra. i merely was trying to point out that you were b****ing about the software not including support for illegally downloaded tv shows... or tv shows in general. it is called MOVIE LABEL ... for movies, genius.
codeaero reviewed v1.0 RC1 on May 28, 2005
Mountain_Man:
Why take a taxi when you can walk?