Other Versions
Publisher's Description
Mozilla Thunderbird is a redesign of the Mozilla mail component. The goal is to produce a cross platform stand alone mail application using the XUL user interface language. The intended customer is someone who uses Mozilla Firefox (or another stand alone browser) as their primary browser and wants a mail client based on mozilla that "plays nice" with the browser.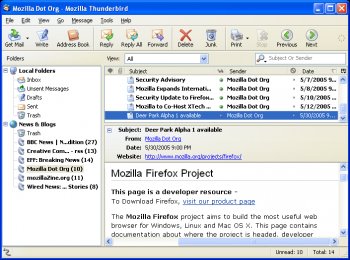 View Full-size
Latest Reviews
I am still using Mozilla Thunderbird.

Regards
Subhash
Working in https://www.regainsoftware.com
petergrew reviewed v91.9.0 on May 10, 2022
I am not sure why they discontinued this amazing email client!

Regards:
Peter Grew
Admin at https://www.shoviv.com
Sven123456789 reviewed v91.8.1 on Apr 20, 2022
Still my go to email software
Sven123456789 reviewed v78.11.0 on Jun 3, 2021
Nothing much has changed. Still rock solid email software that I use for my email accounts.
Monkey_Punch reviewed v78.6.0 on Dec 18, 2020
The switch to LLVM 11/Rust 1.47 has made FF an order of magnitude faster. You can feel it while using the product. Sadly, TB 78 ESR is still stuck on LLVM 9.0.1 and Rust 1.43. But, the Mozilla folks have enlisted a whole slew of new folks to address ancient bugs and beat the cruft out of TB. It's paid off with both performance improvements and useability improvements that were long overdue. A few years ago when Mozilla anounced TB was no longer going to be developed and put on life support, it was a tragic bit of news. This year's culling of workforce at Mozilla made me worried too. I can say with certainty that TB is not only alive and well but getting loads of fixing for the upcoming ESR release. 78 has had a lot of growing pains and AddOn authors are still playing catch up.

I can personally attest to the HUGE amount of improvement I've seen in the latest betas I've been playing with. 2021 is going to be a great year for TB and Mozilla in general. TB is still the best client out there bar none.
MrUp reviewed v78.2.1 on Sep 1, 2020
This is great Software. I recommend this to everyone I know. Thanks for making it.
Monkey_Punch reviewed v78.0.1 on Jul 22, 2020
There's just no substitute for a good email client as using Web UI email stinks to high heaven. It's kind of sad that a lot of what used to make the era of Outlook and Eudora so pleasant was that NO ONE wanted to get saddle with crappy things like Outlook Web or the early Yahoo web-based email UI.

Thunderbird has been plugging along for around 15 years+ years now in some form or another and the more things change, the more it stays the same. Emails clients don't need to change much to be honest. It's a simple word processor that sends and received email. It doesn't need to get more complicated than that. But, it's great to see that PGP integration is finally getting it's due in Thunderbird.

If Mozilla's new offshot company that's handling Thunderbird can FINALLY get PGP right (where countless others have failed miserably), everyone will dump whatever cobbled together software hydra they've been using and switch to Thunderbird.
Sven123456789 reviewed v68.3.0 on Dec 3, 2019
Like allot of software that was good, this has jumped the shark. They followed firefox into the new version that doesnt allow old themes and add on's. I'll stick with the 60 version series. The morons at Mozilla wonder why firefox lost most of its user base now add thunderbird to the list.
M50 reviewed v68.1.0 on Sep 11, 2019
Since yesterday I have rectified the issues I was having. All is back to normal.(Please read pros and cons)
I have upgraded the star ratings accordingly.
JudySmith712 reviewed v60.7.1 on Jun 17, 2019
Loved the Product and would always use the same

Regards,
Judy Smith | Tech Support
www.o365cloudexperts.com