File Details

File Size
4.8 MB
License
Freeware
Operating System
Windows (All)
Date Added
May 27, 2023
Total Downloads
209,502
Publisher
Florian Heidenreich
Homepage
Mp3tag
Publisher's Description
Mp3tag can rename files based on the tag information, replace characters or words from tags and filenames, import/export tag information, create playlists, and more. It supports online freedb database lookups for selected files, allowing you to automatically gather proper tag information for select files or CDs.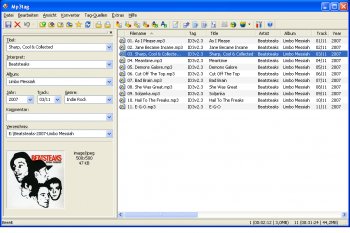 View Full-size
Latest Reviews
SirBannana reviewed v3.21 on Jun 19, 2023
Yes, I used to use it :)
landon_yajaira reviewed v3.20 on Apr 8, 2023
hey used this. It was great experience
salmakhan reviewed v3.20 on Apr 3, 2023
The text highlights the various features of Mp3tag, a tool that allows users to manage and manipulate their audio files efficiently. The mention of technology is particularly relevant in the context of the online freedb database lookup feature, which enables users to automatically gather proper tag information for select files or CDs. This technology streamlines the organization and management of audio files, saving users time and effort in the process. Overall, Mp3tag appears to be a powerful tool that harnesses technology to enhance the user experience and simplify audio file management.
some guy reviewed v3.00 on Jan 27, 2020
great tool glad to see it's still getting updates
A very useful tool, only thing I wish is that it would also allow file names to stay same even if rest of tag is missing to just add the missing parts.
electron1c reviewed v2.97 on Jul 23, 2019
Do you have similar software on Android on APKNite? I need a software with a simple user interface that provides features to add files, folders or playlists via the file browser or through a handy "drag and drop" operation, displaying links, tag, artist name, album, track, year, music stream, comment, codec, bitrate, file length and last date of modification for each file.
milijacob reviewed v2.80 on Dec 6, 2016
i tried out with this software and it is working well. I was in need of such softwares for my system to upgrade

http://best-essay-writing-service-reviews.com/
Music4Ever reviewed v2.72 on Oct 13, 2015
Brilliant as always - Used for many years & does all I ask of it.
roymccoy reviewed v2.71 on Jul 20, 2015
Couldn't live without it!

New version changes:
http://www.mp3tag.de/en/changelog.html
royudoy reviewed v2.69a Beta on Mar 23, 2015
great