File Details

File Size
7.1 MB
License
Shareware, $18.99
Operating System
Windows 2000/Server 2003/Vista/XP
Date Added
February 26, 2010
Total Downloads
6,035
Publisher
John Rennemeyer
Homepage
MuvAudio
Publisher's Description
MuvAudio is a .NET software application that supports recording the audio of most video/audio item playable by Windows Media Player. It takes the term "realtime" and turns into into "unrealtime", recording, that is. It supports the ability to record up to 5X as fast, uses sound-seclusion, and provides the best possible quality recording of any real-time recording program. It can output to WAV, MP3 (CBR and VBR), WMA, OGG, MP4, FLAC and more.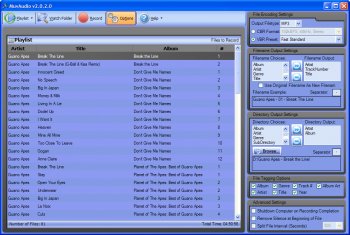 View Full-size
Latest Reviews
plumlipstick reviewed v1.4 on Feb 11, 2006
This program is worth the asking price. It does what it's designed to do both effectively and reliably. It makes high-quality audio recordings from anything you can play with Microsoft's Media Player including purchased content from Napster and Rhapsody. It inserts tags correctly into recorded files when that information is available in the original file. There is no loss of quality in terms of sound. Using dedicated mode allows you to record files in batches and is awesome for overnight use. It puts your audio neatly into directories and behaves nicely with other software running on my machine.

The only problem I have encountered with it is a tendency to stop responding upon exiting the program. This doesn't impact my work in Windows but does mean restarting my machine if I want to use the program again. It doesn't happen every time and may be something I have set wrong.
ritamalamud reviewed v1.2 Beta 1 on Nov 8, 2005
A real turn off! it requires a Virtual Audio Cable and it does not record iTunes.
Has anyone tried Hotrecorder for Media? apparently it does not require third party VAC and it records iTunes and Yahoo Music.
Would appreciate your input.
Rita
renzska reviewed v1.2 Beta 1 on Nov 6, 2005
Richard,

The reason it didn't install correctly is because the main install was exited before you completed the VAC install. This has now been fixed so that you can't exit the main install during the VAC install. Please redownload the trial and everything should work fine.
richardhill reviewed v1.2 Beta 1 on Nov 6, 2005
Doesn't install on XP - Virtual Audio Cable error from log:

MessageBox: Cannot open file "license.txt" (0/2 - The system cannot find the file specified.)

I've rated as a 3...no idea what the program is like.
composmentis reviewed v1.0 on Jul 7, 2005
Best program out there for recording d r m protected files so you can use them on MP3 players. Now with v. 1 you have the ability to record multiple streams at a time, it's great! I bought it I loved it so much.
poppyq reviewed v1.0 on Jun 30, 2005
This program is awesome! I can finally put my music from itunes on my dell dj that I keep at work instead of just on my ipod.
al465 reviewed v0.9.6000 Beta on May 10, 2005
Wonderful package. Handles artifacts of starting and stopping that similar systems don't. And the developer's a great guy.
scott47 reviewed v0.9.3000 Beta on Apr 29, 2005
This is an outstanding program that does exactly what it promises to do. While I have been using this software for some time and a few problems have occurred, the author fixes them very quickly (usually within hours). Most of the bugs have now been fixed and I successfully use this program nearly every single day.

In recent releases some very useful features have been added such as saving your preferences.

If you haven't tried MUVAudio I suggest that you try it -- you'll be happy you did. If you're happy with the program and use it regularly please remember to send the author a contribution via PayPal or if you are unable to do that, please send your thoughts, comments or suggestions. I'm sure the author will greatly appreciate it

Thanks,
Scott
darthbeads reviewed v0.9.3000 Beta on Apr 27, 2005
I don't understand how you can give something a lower rating because it doesn't do something that has absolutely no relevance to its intent, design and purpose. It is called MuvAUDIO, after all -- why would it record video? Admittedly, the description is confusing, but it is still very clear that it is "for recording the AUDIO of any playable video/audio item".
A fantastic tool that does exactly what it is designed to do, all packaged in a clean, intuitive, functional interface.
VictorAnderson reviewed v0.9.3000 Beta on Apr 27, 2005
Good app, good design.
Now...if you guys could get it to handle video too, THEN you'd have something special (and would get a 5 instead of a 4)...