File Details

File Size
1.9 MB
License
Open Source
Operating System
Windows 2000/Server 2003/Server 2008/Vista/XP
Date Added
May 20, 2010
Total Downloads
7,416
Publisher
J.C. Kessels
Homepage
MyDefrag
Publisher's Description
MyDefrag is a disk defragmenter and optimizer for Windows. Completely automatic and very easy to use, fast, low overhead, with several optimization strategies, and can handle floppies, USB disks, memory sticks, and anything else that looks like a disk to Windows.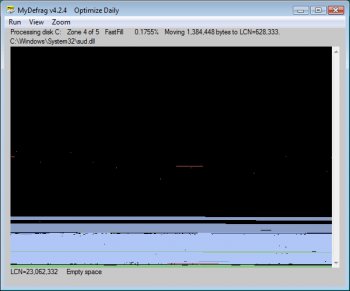 View Full-size
Latest Reviews
Enlightenment reviewed v4.3.1 on Dec 19, 2014
Old school look, but very powerful. It just works without problems and that's what's important.

You can edit the script files with a text editor, add various file types and directories that you want to push towards the end of the drive during the full drive defrag, and I love this capability.

It doesn't have boot-time defrag, but I'll install another program to do it from time to time.
dhry reviewed v4.2.9 on Mar 8, 2010
Changelog:
* Added a check to * MoveToEndOfDisk to exit more quickly if the program is stopped prematurely.
* Fixed an installation bug that causes an "unable to execute file" error for the MyDefragScreenSaver.scr file.
* Changed the * MoveToEndOfDisk fileaction so it will skip a file faster if there is no gap large enough above the file.
* Changed the * MoveToEndOfDisk fileaction so it will stop faster when MyDefrag is stopped by the user.
* Fixed a bug that limited the value of constant numbers in a script to 2147483647.
* The ZoneBegin will no longer be automatically moved by a zone that contains a MoveToEndOfDisk fileaction.
* Removed the automatic disk filters from most of the default scripts. For example, the script for flash memory disks will now run for all the selected disks, and not only for removable disks.
* Fixed a problem where enlarging a gap for FastFill would be extremely slow if the file to be moved away was a NTFS compressed file.
* Fixed a bug in MaxRunTime statement that would cause it to always use zero as maximum runtime.
* Fixed a bug that could cause the subroutine that enlarges gaps for FastFill(WithShuffling) to move items that were already processed (placed in a previous zone).
* Fixed a bug in the grammar that prevented the WhenFinished(Shutdown) setting from accepting the sub-options.
* Fixed 2 bugs in string variables.
* Changed PreventScreenSaving() into * SetScreenSaver.
* Changed PreventPowerSaving() into * SetScreenPowerSaver.
* Changed the subroutine that vacates the NTFS reserved area, Previously it would not count NTFS reserved area free space that was already there, resulting in unnecessary data movement.
* Fixed a bug in NTFS scanner so it will now load a minimum of 1 sector when loading the first record of the MFT. On ultra-big harddisks the size of an MFT record (1 kilobyte) can be smaller than the number of bytes per sector.
* The * ImportListFromProgramHints fileboolean is now oompatibel with Windows XP.

AFAIC the most important fix (haven't tested it yet, but I sure will tonight - 5 stars for the moment) is the longstanding issue with the massive slowdowns due to NTFS compressed files. If he's fixed this, the program instantly becomes the best defragger currently available on Windows - and that includes the commercial equivalents.

EDIT: This thing is still broken. Crashed with a dialog telling me to send the debuglog to the author's forum. Reading the debuglog, it tells me it doesn't have enough info and NOT to post it on the forum. WTF? This thing is still far from stable - avoid and get something trustworthy that won't potentially sh1tcan your boot drive - either Defraggler or PerfectDisk, whichever fits your budget.
dhry reviewed v4.2.8 on Feb 25, 2010
Great idea, very configurable, but still has a major bug that needs to be ironed out. Basically, the program can use 100% of your CPU and spend HOURS moving an incredibly small amount of data. The author claims this is due to NTFS compression on a drive, but no other defragmenter has this problem and it manifests even when there is no NTFS-compressed files on the drive at all. In addition, I've found that the program can be closed but will continue to run for ages in the background (still using 100% CPU) before it finally decides to quit out. On smaller drives, or if you're lucky, the program will work fast and does everything you'd expect. However, it's pretty far from something you should trust your important data to. Stick with one of the commercial guys, like PerfectDisk, or else something solid and reliable like Defraggler for the moment.

Forum post: http://www.mydefrag.com/...=3165.msg21010#msg21010
mikewt reviewed v4.2.8 on Feb 17, 2010
Defragging USB sticks will break them (see draculla's review) or at the very least shorten their lifespan. Don't EVER do it. The reason: USB are solid state devices, hard disks are magnetic devices. Solid state devices can only write to each cell a limited number of times (50,000 - 1M) before they become stuck - read only. Hard disks being magnetic can be written (millions).

Do NOT defrag USB drives.
JustForMyMemory reviewed v4.2.8 on Feb 16, 2010
this program needs so much tweak and editing
- The installer is stupid and not-so-much-smart, you have to remove old version before install a new one.
- The screensaver is not smart, can not be portable
- Did not remember view setting
- Pretty slow, sometimes crash
cltx99 reviewed v4.2.8 on Feb 15, 2010
Does the job well, but is incredibly slow.
univers4113 reviewed v4.2.8 on Feb 15, 2010
MyDefrag 4.2.8
And not 2.4.8
Nice and pretty version
see changelog 4 more informations
Ramp4me reviewed v4.2.7 on Dec 22, 2009
Is maturing nice, 4 stars for still having some optimization inconsistencies.
draculla reviewed v4.2.7 on Dec 16, 2009
Reviewing 4.2.5
I defrag on my Western Passport 160GB (external USB), with Memory Stick mode, then all files in the disk is not usable anymore. So dont ever try with it.
dhry reviewed v4.2.5 on Nov 3, 2009
In addition to my note below, this version also takes an unnecessarily long time to analyze the drive. There's still opportunity for some major procedural optimization in this area. Every other defrag program generates a drive analysis about five times faster. Perfectdisk screams by comparison. I'm definitely hanging around to see what develops with MyDefrag but there's still plenty of sawdust on the ground with this program right now.